Alphacool has been heavily promoting its Eisball digital RGB reservoir/pump combo throughout 2019. It was on show at both CES 2019 in January and Computex in June. Now the firm has taken the important step of releasing the Eisball which it claims is the "the world's first reservoir shaped as a ball," and praises the product for being unique, and even potentially breath-taking.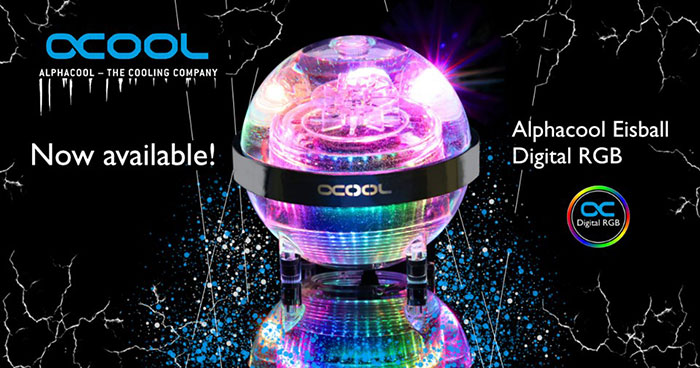 This ball-shaped 700ml reservoir is made of tough transparent nylon, a material which Alphacool previously used on its Eisblock XPX CPU cooler series. Thanks to its nylon construction, Alphacool claims the Eisball is "(almost) indestructible." For example, staff have kicked samples around the office, dropped them from tables - and the Eisball is much tougher and stronger than any plexiglass alternative would be.
The Eisball doubles up as a pump top and is compatible with all VPP and Laing D5 pumps, according to Alphacool. If you don't have a pump already Alphacool sells the Eisball digital RGB with the option of a pump bundle. Multiple nounting possibilities are available for systems builders. There are two mounting plates in the package. One which fits in standard fan mount areas, and another which attaches to a 2.5-inch HDD mount. Additionally, a Velcro mount is included for flexible case positioning.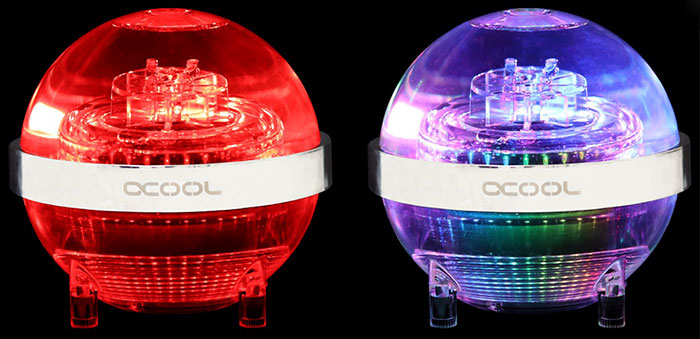 Alphacool has patented the way the pump is inserted into the Eisball and as it is almost entirely surrounded by the water when installed any pump noise and vibrations will be dampened - working better than foam insulation, it says. Furthermore, special decouplers are used in the Eisball mounting to minimise transferred vibrations.
This product's toughness and quietness are all laudable qualities but the key attraction for buyers might well be its looks. The transparent construction paired with chrome circumference ring and 22x addressable RGB lights can easily make this product the focus of attention in your PC system. Watching the official video overview, below, is recommended.
Alphacool's Eisball is now available in two versions:
The Alphacool Eisball without a pump has a price tag of €79.94 / US$83.81.
The Alphacool Eisball with integrated VPP755 V.3 pump costs €124.95 /