If you have already grabbed or intend to purchase one of the new AMD Radeon RX 5700 or 5700 XT graphics cards, a new liquid cooling option will be available for you to retrofit before the month is out, and its already up for pre-order. EK Water Blocks has a couple of EK-Vector Radeon RX 5700 +XT water blocks now listed on its site, with matching backplates available too, which it is promised will help deliver greater overclocking headroom and more performance during gaming or other GPU intense tasks, when attached to your graphics card and an appropriate liquid cooling loop in your PC.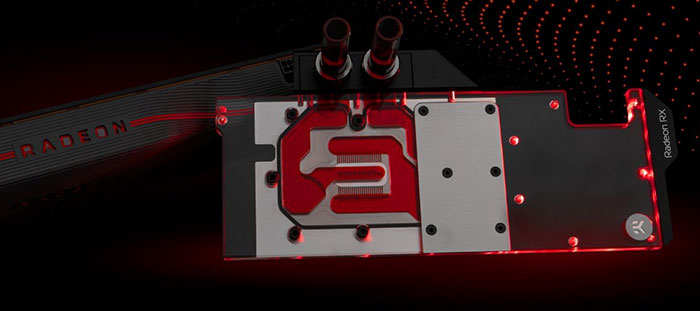 The EK-Vector Radeon RX 5700 +XT RGB water blocks are compatible with the reference design Radeon RX 5700 and RX5700 XT graphics cards - which is all of those listed and available at retailers right now, whatever the brand. EK's designs directly cool the GPU, 8GB of GDDR6 memory, and VRM - with liquid flow directly over all these critical heat generating areas. According to EK, the new Vector designs use a redesigned cooling engine that has a larger footprint compared to the previous generation of water blocks - and the larger surface area increases the thermal performance of these products.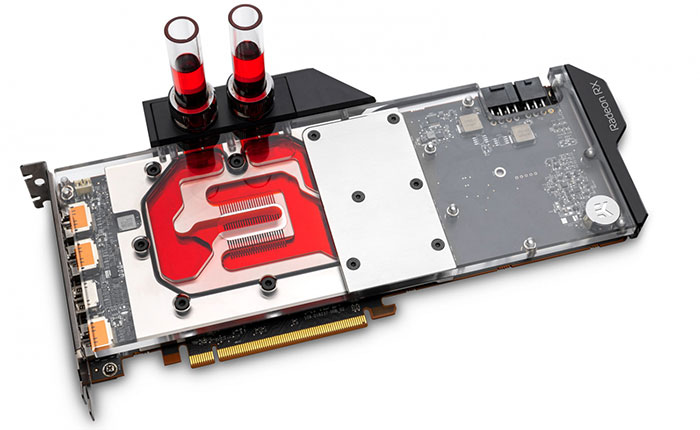 On the topic of performance, EK reckons its Vector RX 5700+ XT product will help users sustain higher maximum clock speeds and you could see your card deliver "10-20 per cent better results depending on workload or game you're playing". Other benefits touted are lower temperatures for greater GPU lifespan, and less noise.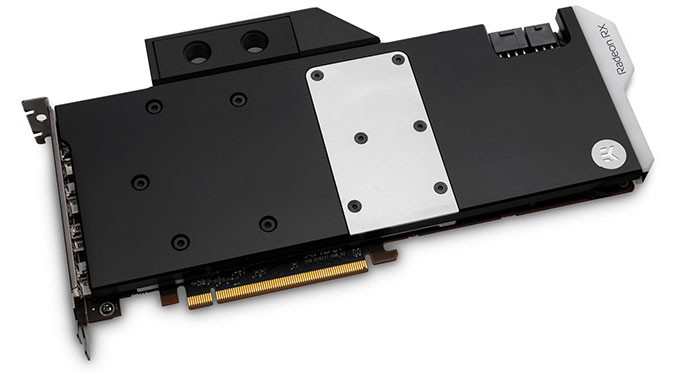 High-grade copper or nickel-plated electrolytic copper is used for the base of the block, and buyers have the choice of the top being made from high-quality acrylic material or black POM Acetal material (see pricing table later). Enhancing the minimal industrial design of these water blocks are some RGB LEDs, configured differently depending on your choice of plexi or acetal top. Additionally EK has implemented RGB lighting of the terminal block. RGB LED lighting is compatible with the popular sync tech from the likes of Asus, Gigabyte, MSI and ASRock.
EK seeks to streamline your installation by adding brass standoffs, that are pre-installed, plus high-quality EPDM O-Ring seals, and a single-slot I/O bracket replaces the original two-slot blower bracket.
To finish off your GPU with flair, EK has also produced a couple of CNC machined retention backplates. There are black anodized aluminium and nickel-plated aluminium options available, which cover the full length of the reference graphics cards, look good and provide passive cooling for the backside of the VRM.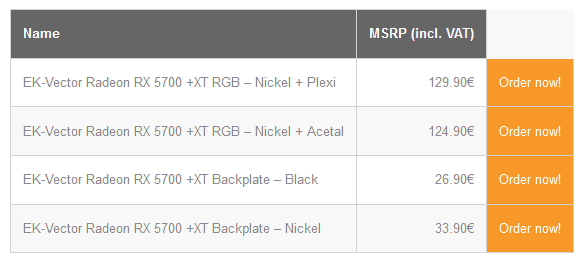 As mentioned in the intro you can pre-order these products now. Deliveries will be sent out starting from Monday, 26th of July 2019.
On its Facebook page, EK is promising more water blocks for Navi are coming soon - see teaser image below.