MSI first revealed its specially designed heatsink for M.2 SSDs back on 29th November. The patent pending design of the MSI M.2 Heat Shield was claimed to lower temperatures and prevent throttling of your otherwise ultra-fast PCIe M.2 SSD.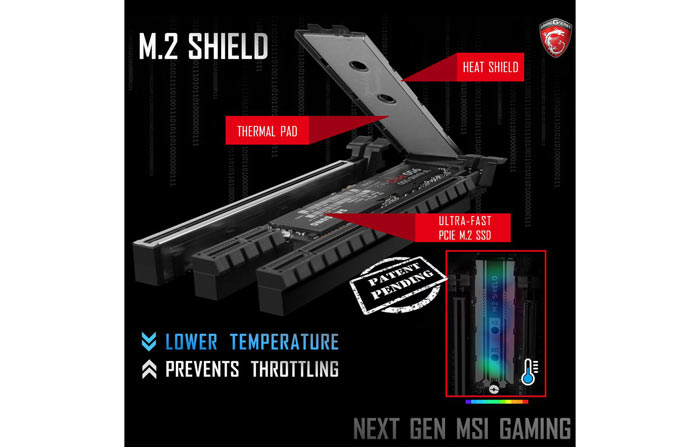 Alongside the above picture MSI explained that the "M.2 Shield, found on next gen MSI GAMING motherboards, helps lower M.2 PCIE Gen3 x4 SSD temp to maintain maximum speed and prevent throttling". MSI used performance data from Tom's Hardware tests of a Plextor SSD with and without a Plextor designed integrated heatsink to backup claims that its motherboard Heat Shield assembly provided the same functionality. (see image below from Page 19 of an MSI press deck)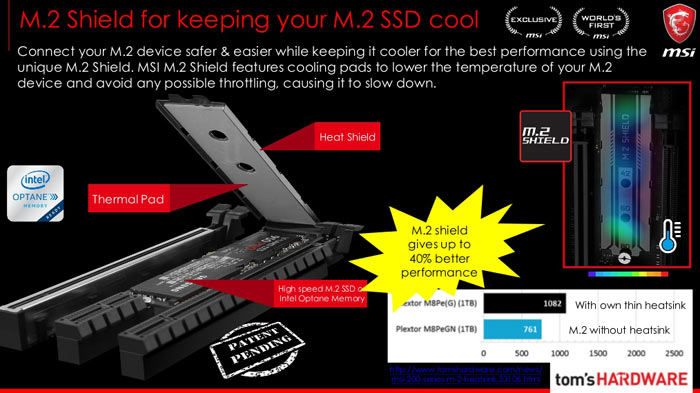 Just ahead of the weekend inquisitive Gamer's Nexus writer Steve Burke published an article about his investigations into MSI's claims regarding its M.2 Heat Shield. Burke reckoned that "The idea that the 'shield' can perform two opposing functions – shielding an SSD from external heat while somehow simultaneously sinking heat from within – seems like it's written by marketing, not by engineering".
After testing, his cynicism looks to have been justified. Burke concludes that "The only thing the M.2 shield is shielding the SSD from is proper cooling. MSI needs to either wrap the entire SSD with the shield and use better interfaces, or needs to ditch the idea altogether." In tests the key observation was that the underside of the SSD was adversely affected by the Heat Shield - it didn't get heat sink contact, and it received poorer airflow. Thus for cooling and reducing the possibility of thermal throttling the MSI M.2 Heat Shield is summed up as worse than leaving your M.2 drive bare or uncovered. MSI's metal flap is only a 'shield' in the ancient sense - protection from light accidental damage in your chassis.
It's well worth a watch of the video above to see an overview of the Gamer's Nexus tests. For further reading about the testing methodology and for various charts of temperatures under different conditions you can hit the link for the source article.