Computex Taipe - GECUBE Takes You to Experience the Excitement of the Latest DX10 Technology Offered by the Next Generation HD2000 series 3D Graphics Cards and the Multi-Media Products

Taipei, May 30th, 2006 -- Computex Taipei 2007 will kick off on June 5th and GECUBE, the world renowned leader in graphics card design and manufacturing, will exhibit the entire line up of the next generation and uniquely designed HD2000 series 3D graphics cards at the show. You are invited to visit the GECUBE booth in the Taipei World Trade Center Hall 2 from June 5th to June 9th and there will be both static and live demonstrations plus dedicated product speakers to present the record-shattering HD2900XT, the flagship of the line and GECUBE engineering teams' proud achievement. GECUBE will show DX10 series graphics cards display and a multimedia DVR BOX audio and video demonstration will also be on show.



* GECUBE HD2000 series specialty high-end graphics card supports DirextX 10, Shader Model 4.0 and with built-in HDMI



HD2900XT OC super exclusive TEC version: The fire-breathing HD2900XT, which recently set a new single graphics card record for 3D Mark 05 with a score of over 30,000 points, is the most powerful graphic card in existence. The GECUBE-exclusive over clocked version is equipped with thermal electric cooling(TEC) technology to achieve optimum temperature control while the HD2900XT is operating at over clocked speed without concern for overheating and related damage. Moreover, the significantly lower noise level and reduced heat dissipation ensures a pleasant operating environment for those who live and work around it. The highly anticipated HD2900XT is set to be shown to the public for the first time at Computex Taipei 2007.

GECUBE HD2000 series Gemini dual GPU series: Following the success of the X1650XT Gemini 2 dual CPU graphics card, GECUBE Taiwan, which specializes in dual GPU design, is now introducing the latest HD2000 series DX10 dual GPU graphic card to satisfy the most demanding power users. The GECUBE HD2000 series DX10 dual GPU series and its phenomenal capabilities is set to be premiered during Computex Taipei 2007. This is an event that you must attend if you would like to experience ultimate performance.

Exclusive GECUBE HD2600XT GDDR4: Built-in GDDR4 enables this mid-class graphics card to offer high-end performance and unbelievable value. Equipped with GECUBE's indigenous 2nd generation X-Turbo 2 silent fan technology, HD2600XT GDDR4 utilizes a silent turbine-type fan and dual heat pipes to achieve amazing heat dissipation and efficiency. HD2600XT GDDR4 combines low noise levels, low operation temperature and a sleek, contemporary styling that will attract admiration from the world over.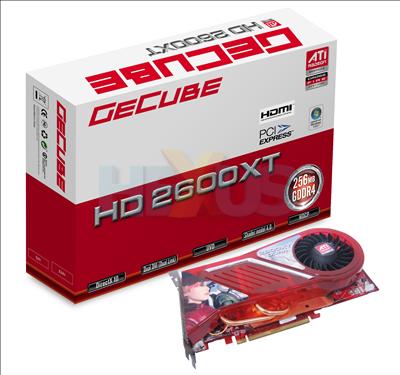 GECUBE AGP 8X HD2000 Series: GECUBE strives to achieve a new high in the APG 8X platform. Introduced ahead of the competition, GECUBE's next generation 2000 series will also be available in AGP 8X platform to enable the DX10's surreal graphic performance on an APG 8X platform. GECUBE offers a comprehensive line up of products ranging from low to high end of the spectrum to satisfy the widest range of customers.

* All GECUBE 3D graphics card products have been certified as Windows Vista™ ready. Many of them have also been certified by Windows Vista™ Premium WHQL (Windows Hardware Quality Labs) so you can upgrade your system the easy way today to experience the 3D Aero interface first-hand!

* DVRBox (HDD Based Digital Video Recorder): Pocket Hard Disk Black and elegant, the DVRBox records and converts DV, DVD, & TV to MPEG-4 video format instantly. Copying videos from camcorder is also accomplished with the minimum of hassles. After connecting a camcorder to the DVR Box's Video-in terminal, the DVR Box converts video to MPEG-4 with one simple click of a button.

World premiere of all exclusive and high performance products will take place during the Computex Taipei 2007. GECUBE sincerely invites you to visit our exhibition booth and not to miss this chance of witnessing the unreal performances offered by GECUBE products.

Venue: Taipei World Trade Center(TWTC) Hall 2 E093-E094E
Date/Time: June 05-08 9:30~18:00
June 09 9:30~ 16:00