A video unearthed by UnleashThePhones shows a previously unseen new feature coming to the Windows Phone 8.1 'Blue' release. In a 23 second YouTube clip it is quite clear to see a Windows Phone user input "Hello world I am :) happy" using what looks like the standard Windows Phone software keyboard.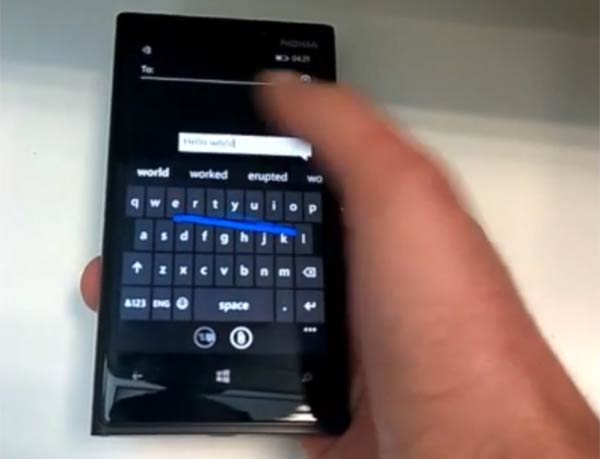 We recently looked through a series of other Windows Phone 8.1 updates which included an 'Action Centre' notifications centre and quick access toggles functionality. We have also heard about independent volume controls and a Siri-like Cortana virtual assistant on the way. This is on top of lots of other improvements recently released in the Lumia Black update. All things considered the 0.1 update to Windows Phone 8 is looking to be unfairly understated by its numerical increment.
The video is very brief and a little bit distant, even if you watch it full screen at the YouTube 720p setting. However you can clearly see the 'Swyping', or is it 'SwiftKeying'. Compared with my Android tablet SwiftKey input it looks more 'Swypy' to me. The Windows 8.1 keyboard is also shown in the video to auto-suggest appropriate emoticons when various keywords are input. Sources speaking to The Verge have confirmed Microsoft is building a gesture keyboard into Windows Phone 8.1.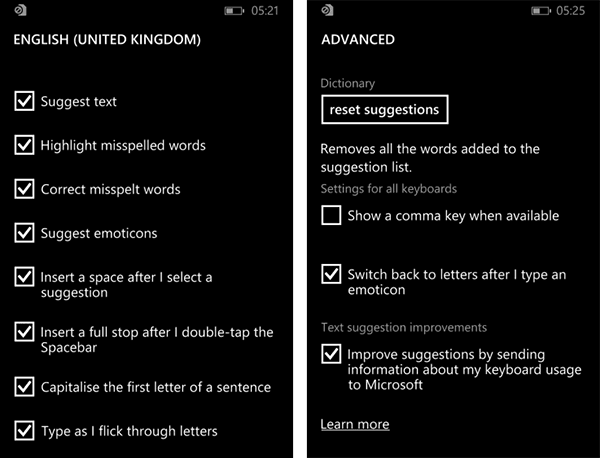 An upgraded keyboard is particularly welcome on Windows Phone where Marketplace apps can't actually replace the stock Microsoft supplied keyboard. This is similar to Apple's iOS where such system features can't be tinkered with by any utility apps (unless you Jailbreak). It was rumoured, approaching a year ago, that Apple iOS devices were going to get Swype as part of a system update but it hasn't materialised as yet. Apple mobile device fans did get SwiftKey Note at the end of January though. However that doesn't hook into the OS to replace the default keyboard it just lets people input using SwiftKey for (Ever)note so is of limited scope and utility.