Leaked PowerPoint slides from an internal Microsoft presentation have definitively revealed for the first time what will be in the Windows Phone 8.1 'Action Centre'. Spanish Microsoft fans Winphollowers acquired the slides, which were attached to an email intended for members of the Windows Phone team at Microsoft. Since the publishing of these images on Saturday The Verge has confirmed they are genuine features of Windows Phone 8.1.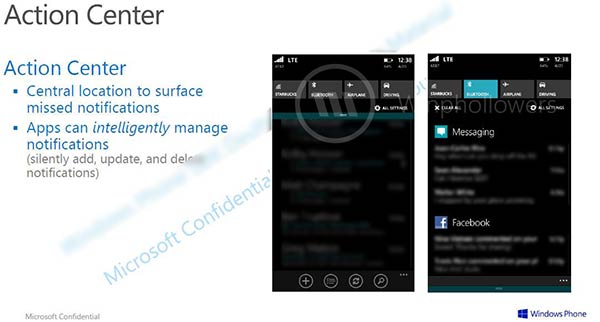 The lack of a toggles/notification centre comparable to that implemented in Android and iOS has often left Windows Phone users feeling something is lacking. A few numbers on live tiles informing WP users of how many this-and-that events they've missed is useful but doesn't give many users enough of an idea if there's something important that's been missed. They might have to click into and out of four or five different apps to see what's what...
A notification centre of sorts has been rumoured for inclusion in Windows Phone updates for a while and the 8.1 update is said to be coming around April or sooner, ahead of the annual BUILD developer conference. These screenshots give us a pretty good look at what to expect.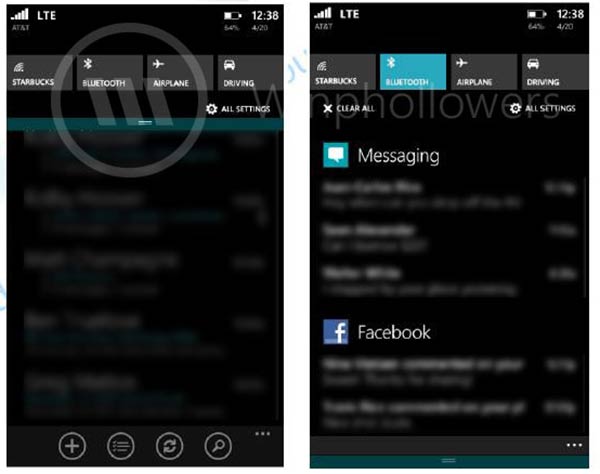 As you can see, Microsoft has chosen to call its smartphone notification centre the 'Action Centre'. The company describes the feature in the slide and informs us that "Apps can intelligently manage notifications (silently add, update and delete notifications)." Looking at the screen grab on the left of the picture you can see the simple upper toggles for Wi-Fi, Bluetooth, Airplane mode and Driving mode. The Verge says that "all four are customisable," so you might want to use one of the slots for Location Services, screen rotation or some other toggle.
The second of the screens you can see shows the Action Centre fully revealed and you can see the subject and first line of message summaries from the messaging and Facebook apps there. These features will probably be popular with Windows Phone users but I'm a bit disappointed to see it so closely mimics the way Android works. However it's better to make a good copy of something that most people agree to be functional than copy it but change things for the sake of being different.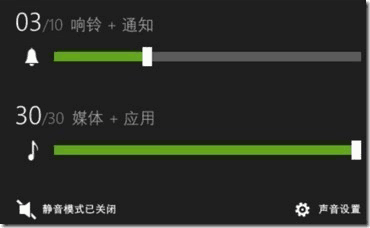 These are just a couple of changes coming to the biggest update to Windows Phone 8 so far. Last autumn we first heard of the Siri-like Cortana virtual assistant technology which is still expected to arrive and also we hear that independent volume controls for the different alerts your phone might emit are on their way.