Serial smartphone and tablet leaker @evleaks has revealed that the first Windows Phone Blue (AKA Windows Phone 8.1, or from now on referred to as WP8.1) handsets are codenamed the Nokia Goldfinger and Nokia Moneypenny. Sources speaking to The Verge tipped Goldfinger as the flagship model of this upcoming twosome and also made reference to a new interactivity feature called 3D touch.

So the original @evleaks Tweet doesn't shed much light on the new Goldfinger or Moneypenny smartphones other than the fact that they will be WP8.1 pioneer devices. We don't even get a badly exposed, composed or out of focus snap. However we already know that the new WP8.1 OS is expected to debut containing a new long-awaited notification centre, multitasking improvements and the personal assistance of Cortana.
Sources speaking to The Verge say the UI will also be enhanced using 3D Touch – making use of the smartphones other hardware sensors to detect off-the-glass interactions. This feature is further described in what sounds like a blend of accelerometer sensitivity usage and gesture recognition. It is envisaged that Lumia owners will be scrolling and flipping between apps without any screen contact at all. Microsoft has plenty of gesture control experience with Kinect so it wouldn't be such a long shot that related tech gets into its other devices.
Other new Nokia devices coming up soon, as revealed in a simple text list by @evlinks, include; Normandy, Phantom and Spinel.
Nokia Refocus lands on Lumia PureView handsets
If you already have a Nokia Windows Phone 8 device with a PureView camera a new app has been launched to help you get the most out of the powerful imaging capability of your smartphone. A Lytro-like capability enhancement to your smartphone has arrived in the shape of the Nokia Refocus app.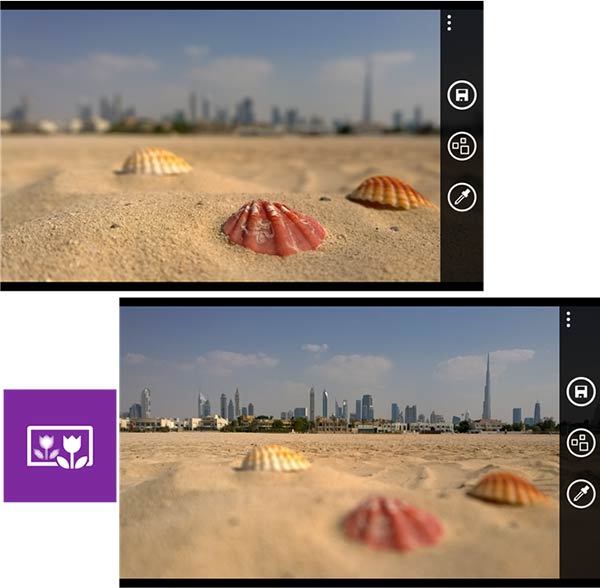 The new software is described by Nokia as follows; "Nokia Refocus lets you take a photo first and choose what you want in focus later. It's perfect when you're shooting close-ups of your subject because it allows you to show depth in your photos, and then change focal point if you want. You can also add great effects like 'All in focus' and 'Colour pop'." We are also informed that it's easy to share your photo compositions via SkyDrive to all your favourite social media, email and messaging clients. Your smartphone needs the Lumia Amber software update before being able to use this flexible post-capture focusing app.