It has been announced that Microsoft will acquire Nokia's devices and services business. The deal, worth $7.2 billion, is seen by Microsoft as a way to accelerate the growth and secure the future of the Windows Phone platform. Looking at how much was paid for what; around $5 billion will secure the Nokia devices division and the other $2.2 billion buys the rights to use Nokia and associated patents.
The deal is nicely outlined in the Microsoft presentation slide below.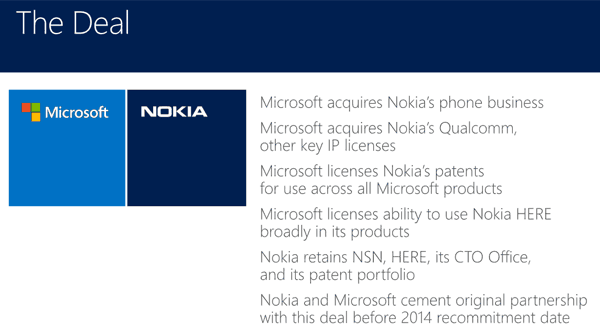 As the Nokia devices division and services becomes part of Microsoft the current Nokia CEO, Stephen Elop will step down and become Executive Vice President of this division within Microsoft. 32,000 other Nokia employees will transfer to Microsoft including nearly 5,000 in Finland. Within Microsoft Julie Larson-Green, who is currently in charge of devices at Redmond will focus upon the Xbox One and Surface but will be part of Elop's team when the deal comes together.
Nokia will not disappear as the firm will retain its patent portfolio, which it has agreed to license to Microsoft for the next 10 years, Nokia Solutions and Networks, Nokia Here and its CTO office.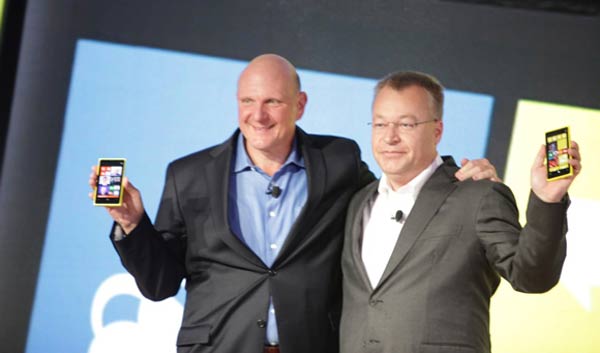 Why did Microsoft buy Nokia's devices and services?
Microsoft has produced a presentation called "Accelerating Growth: Microsoft's strategic rationale for deal announced with Nokia on September 3, 2013". It's available as a PDF and can be downloaded here.
The main thrust of Microsoft's arguments for acquiring Nokia's device and services unit are discussed under the following headings; "accelerate phone share, strengthen overall opportunity, smart acquisition and strong execution plan".
Interestingly Microsoft has revealed, through details about this deal, that it makes less than $10 per Windows Phone unit sold. After the deal it should be able to make over $40 per device. Projecting ahead to 2018 Microsoft also believes that Windows Phone can account for 15 per cent of the smartphone market which will ship 1.7 billion units in that year. If these estimates are correct then the mobile division will be able to contribute $45 billion to Microsoft coffers.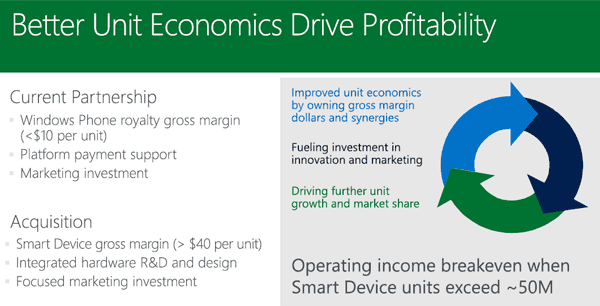 Microsoft believes it has a strong execution plan and will make the transition as smooth as possible making the best use of current Nokia execs, R&D and sales teams.
Recent figures have shown good growth for Windows Phone and it is outselling Blackberry in 34 markets and has over 10 per cent share in nine markets at the time of writing. Microsoft also believes one brand with a unified voice can help make Windows Phone a bigger success. The greater success of Windows Phones will also strengthen Microsoft and its OEMs by offering a family of devices with integrated services reasons Microsoft.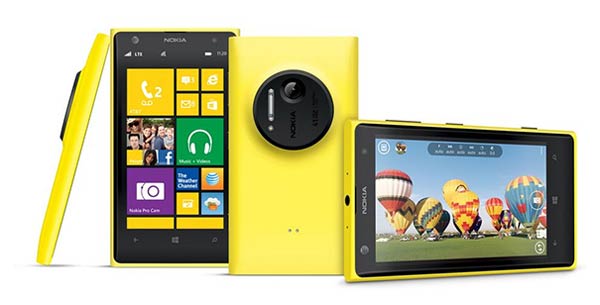 Steve Ballmer and Stephen Elop said, in a joint statement, "Today's agreement will accelerate the momentum of Nokia's devices and services, bringing the world's most innovative smartphones to more people, while continuing to connect the next billion people with Nokia's mobile phone portfolio." The deal is expected to finalise in Q1 2014 but it is still subject to Nokia shareholder approval (the vote is on 14th November) and market regulator approval.