Today in London Nokia unveiled what everyone expected; an aluminium clad revamped version of the Lumia 920 smartphone. The headline additions to this new handset include; aluminium construction, lighter weight and AMOLED screen. However compared to the Nokia Lumia 928 unveiled in the US at the end of last week the Lumia 925 lacks a Xenon flash unit. In fact the camera has only very minor hardware tweaks, most of the latest changes in the imaging abilities of this smartphone are in software.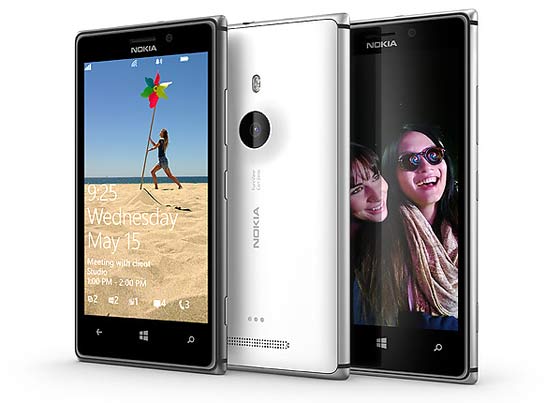 Here are the official Nokia Lumia 925 tech specs:
Networks: GSM 850, 900, 1800, 1900, WCDMA, 2100, 1900, 850, 900, LTE 2100, 1800, 2600, 900, 800
Memory: 1GB RAM, 16 GB user memory
Display: 4.5-inch AMOLED WXGA (1280×768)
Processor: 1.5 GHz dual-core Snapdragon
Camera: PureView 8.7-megapixel with OIS, Autofocus, dual LED flash. 2nd camera: HD 1.2MP wide angle
Size: 129 x 70.6 x 8.5* mm (*volumetric). Weight: 139g
Connectivity: USB 2.0, BT 3.0, NFC, WLAN a/b/g/n, A-GPS and Glonass, 3.5mm audio connector
Battery: 2000 mAh
Audio: -IHF speaker, 2 microphones, HD voice compliant, 3.5mm AV connector
As Nokia highlight, the new Lumia 925 is of aluminium construction, a departure from Nokia's recent trend of making everything from polycarbonate – including the aforementioned Lumia 920 and Lumia 928. The Lumia 925 is both slimmer and lighter than its older brother – 8.5mm rather than 10.7mm and 139g rather than 185g. Part of the slimming process may well be down to the fact that wireless charging is not built-in but requires a clip-on charging cover accessory (available in black, red, yellow or white).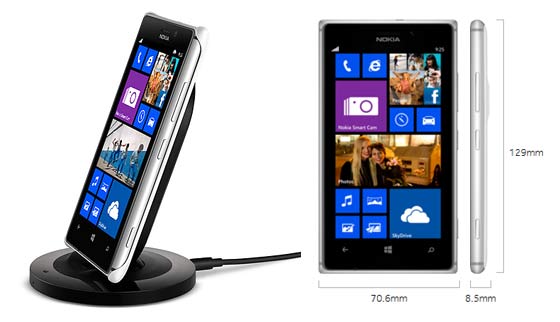 You may notice, through a perusal of the above specs table, that the internal memory seems to have halved; down to 16GB. However we hear that in the UK Vodafone will have exclusivity for a 32GB version.
Also Nokia says the new AMOLED display benefits the user with more generous viewing angles compared with the Lumia 920's IPS display. Both models offer the same screen size, resolution and thus pixel density (331ppi). The camera lens, built upon Carl Zeiss PureView camera hardware, contains one additional glass lens element which will supposedly provide extra clarity and sharpness to images.
Software advances
Nokia says "at the heart of the new camera improvements is the next generation of image processing software and the most advanced lens technology to make every shot clear and sharp." Nokia Smart Camera introduces a range of new shooting functions to this smartphone "with tools and effects like Best Shot, Action Shot and Motion Focus".
Good news for owners of older Lumia Windows Phone 8 handsets is that this software will also be coming to your smartphone in an update called Nokia Lumia Amber this summer.
Price and availability
The Lumia 925 is expected to be available from June on Vodafone in the UK, Germany, Italy and Spain. Expect to pay "around 469 EUR" before taxes and operator discounts.