Last week we heard again about entry level Windows laptops aiming to quash the Chromebook competition. HP launched an AMD Mullins powered touch enabled laptop at US$249. Part of its low-ish pricing could be explained by the presence of Microsoft's Windows 8.1 with Bing. Just a fortnight before Microsoft was presenting its strategic plan on how to win the battle against Chromebooks by "redefining the value category". Now we have seen the first 'Wintel' tablet to be marketed at under US$100, the KingSing W8.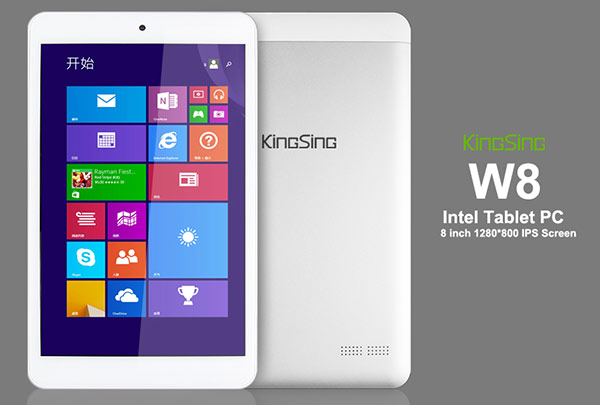 The relatively unknown company known as KingSing has a range of eight Android smartphones in its product roster, according to its own website. However it must see an opportunity to shift some Windows (rather than Android) tablets at under US$100. With the key specs of a quad-core Intel Baytrail-T processor (1.8GHz) and Intel HD graphics, and 8-inch IPS LCD screen at 1280 x 800 pixels, 16GB built in storage (+SD card expansion), Wi-Fi + 3G it sounds pretty on a par with many other much more expensive Wintel tabs. However the 2MP front and rear cameras and 1GB of RAM are definite budget concessions, as may be the build quality, perhaps...
The full spec list is as follows, according to GizmoChina which also published some official looking but typo ridden slides:
Screen: 8-inch, 800 x 1280 resolution IPS LCD with 5-point capacitive touch
Processor: quad-core Intel Baytrail-T processor (1.8GHz) and Intel HD graphics
Memory/Storage: 1GB of DDR3L RAM, 16GB storage + SDHC/SDXC card expandability
Cameras: 2MP front and back
Network: 802.11b/g/n + BT 4.0 and 3G (WCDMA/EVDO/TD-SCDMA)
Connections: microUSB data/charging, HDMI port (according to Gadget Show)
Battery: 4500mAh Li-ion for 6-8 hours of usage time
Size: 207.5mm x 122.6 x 10mm
OS: Windows 8.1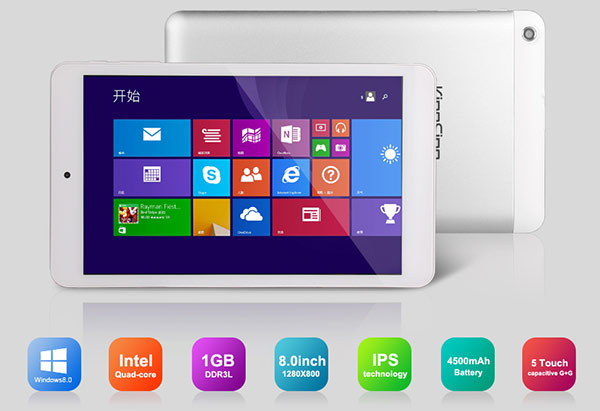 We saw the first 'Windows 8.1 with Bing' tablet launch at the end of May when Toshiba revealed its Encore 2 range. The cheapest of these new Toshiba devices also sports just 1GB of RAM (but at least 32GB of storage). For example an 8-inch Encore 2, with 1GB RAM and 32GB storage has a retail price of $199. I would assume the KingSing uses WIMBoot compression to maximise the available free space on its base 16GB of flash storage.
Overall it sounds like a bargain, if it ever gets out of China and is priced in line with the exchange rates. However the proof of the pudding is in the eating and we'd need to have some time with this device in order to know if it's worth readers hunting it down.