According to the latest report by research firm Strategy Analytics, 1Q14 tablet shipments reached 57.6 million units globally. It shows that Google's Android platform is well in the lead, taking the lion's share by securing a 65.8 per cent chunk of all sales, extending its dominance of the tablet market.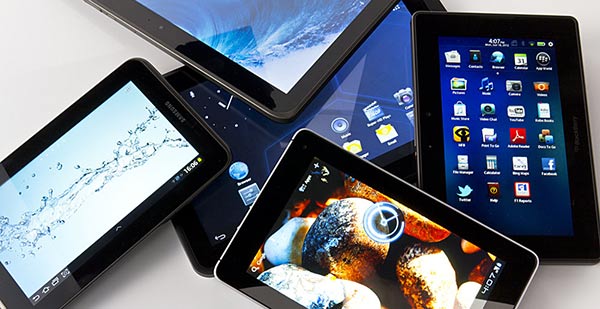 The global shipment figure has risen 19 per cent from 48.3 million in 1Q13 and Android platform's market share also surged from 53 per cent a year ago. Apple's iOS, on the other hand, saw a dip in sales which resulted in a decline to 28.4 per cent in market share from 40.3 per cent of the previous year – that's quite a drop in proportion. In the recent Apple financials we have also observed a cooling demand for Apple pricy tablets.
A breakdown of figures is shown below: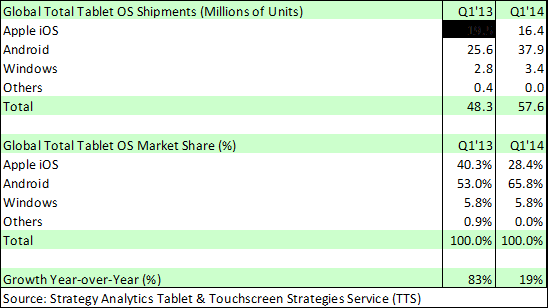 Apple's disappointing performance in 1Q14 was said to be related to the company's change in product release cycle to the holiday timeframe. If this theory is correct, iOS is likely to lose share over the next few months to newer Android products but Peter King, Director of Tablets at Strategy Analytics also stated that he believes that Apple will claw back high-end market share during the last few months of the calendar year.
Another interesting finding from the report is evidence of a steady increase in Microsoft's tablet sales numbers. Windows tablets sales increased to 3.4 million from 2.8 million in the same quarter last year, holding a stable market share of 5.8 per cent.
Windows hardware/apps, chicken/egg situation
"There may be an uptick in Windows following Microsoft's decision to offer Windows for free for sub 9-inch devices," according to the Strategy Analytics report. It points out that a new batch of 8-inch Windows based Tablets with reduced prices may emerge to help sell the platform, although they may still not be as inexpensive as Android tabs.
"The shortage of apps continues to be a problem, with seemingly little incentive for developers to work on the platform," was also put forward as a negative signal for Windows tablets. However Microsoft's smaller Intel-powered tablets do have a massive range of traditional desktop apps available, yet are sometimes sorely lacking the finger-friendliness of the Modern UI versions.