Microsoft has released a new advert for the Surface 2 tablet. The new ad is entitled 'The New Surface: Teacher', it is part of Microsoft's Honestly themed series in which working people explain the things they like about Microsoft Windows powered products including the Surface 2, Windows 2-in-1s, and other Windows tablets, convertibles and Windows Phones.
The teacher chosen to promote the Surface 2 to you is a self-confessed traditionalist who knows change is coming to his profession and embraces it. He's happy that all his students have a new Surface which uses Windows, has Office pre-installed and the option of a real keyboard so the children can "do real work".

The 'old fashioned' cardigan-clad teacher goes on to mention how with the excellent long battery life on offer the Surface 2 allows his students to finish their homework and also Skype and play games at the evening. He concludes "Change is looking pretty good afterall." Microsoft end the ad with a strapline which reads "Surface: One device for everything in your life."
As a video description Microsoft has written; "The new Surface comes with Microsoft Office, has a keyboard to do real work and great apps like Bing Smart Search and Xbox for having fun. See how the new Surface with Windows gives you one experience for everything in your life."
The other ads in the Microsoft 'Honestly' series are as follows:
Lenovo Yoga 11S: "Honestly, I needed a laptop and a tablet. And now with my Windows 2 in 1, I've got both."
Nokia Lumia 1020: "Honestly, I wanted the phone with the best camera. And with the 41-megapixel Nokia Lumia, I got it."
Dell Venue 8 Pro: "Honestly. This is my office. And with my Windows tablet, I can get stuff done on the go."
ASUS Transformer Book T100: "Honestly, I couldn't find a reason not to buy it. It's great for games. It works for work. Plus, it's affordable."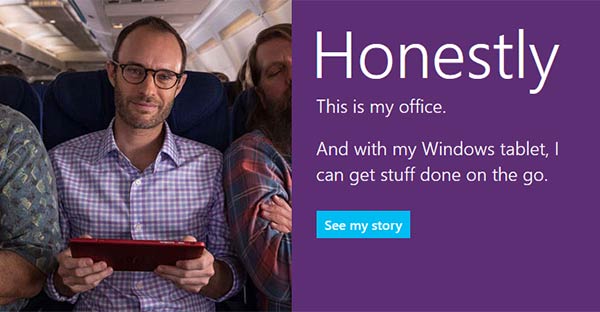 Surface 2 design and engineering decisions
In related Surface hardware news you might be interested in the video below, in which Ralf Groene, lead designer for Surface, describes the design and engineering approach to building Surface 2.