Toshiba has unveiled its new Encore tablet at IFA, Berlin. This is an 8-inch screened tablet powered by one of the new Intel quad-core Bay Trail Atom processors. It will run full fat Windows 8.1 and is due to be released in November, shortly after Windows 8.1 becomes generally available.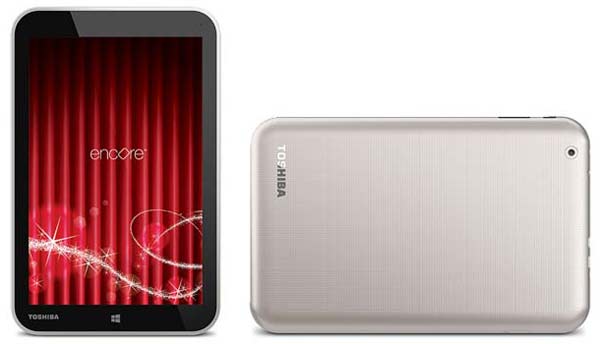 Acer produced the first ever 8-inch Windows 8 tablet, the Iconia W3. We first saw that in May and by many accounts the W3 has not been a very hot seller and had its price slashed last month as Acer continued to grumble about Windows 8 and suggest Android/Chrome were a better choice for mobile computing. However the new Toshiba Encore should have at least two advantages over the Acer Iconia W3; it will be powered by one of the latest Intel Bay Trail Atom chips and it is optimised for the Windows 8.1 OS. The Toshiba Encore will also be launched at a lower price than the Acer Iconia W3 was at launch, starting at $329 (£250) for the base model.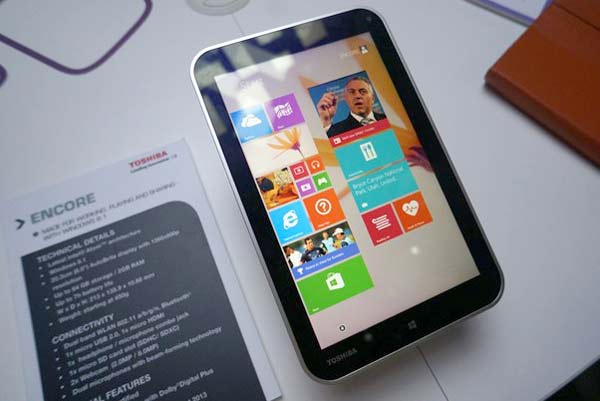 The guys at Engadget have had a hands-on with a Toshiba Encore and found it made "a good first impression". Viewing angles are good; it's easy to hold and has the usual selection of ports conveniently towards the top of the device. However they didn't have time to do any proper testing so let's check out a spec list I've compiled for the Encore.
Toshiba Encore key specifications:
Screen: 8-inch multi-touch 1280x800 HFFS display
Processor: Intel quad-core Bay Trail SoC
Memory: 2GB of RAM and 32GB of in-built storage plus microSD card slot
A/V: 8-megapixel main camera, 2-megapixel front-facing camera, twin microphones, stereo speakers
Ports and connectivity: micro HDMI and micro USB 2.0 slots, dual-band 802.11 a/b/g/n Wi-Fi
Sensors: include a gyroscope, accelerometer and GPS
Battery: "exceptional battery life"
Physical properties: 10.68mm thick and 479g in weight
Software: Windows 8.1, full version of Office Home & Student 2013, Xbox SmartGlass app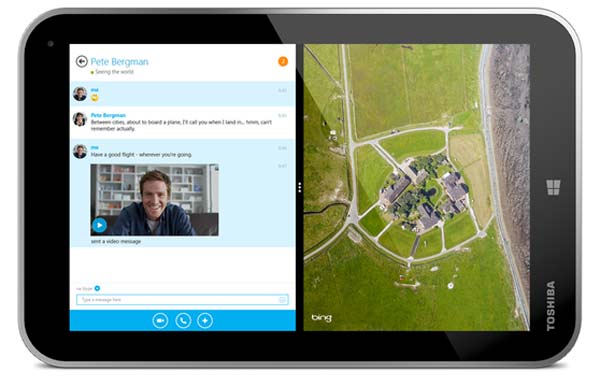 A nice touch, for the functionality of this tablet, is that it is Skype certified and thanks to the decent front facing camera and noise cancelling microphone setup will be a good, handy device for keeping in touch with relatives abroad etc. The launch price of US$329 (£250 in the UK, according to PCPro) isn't too bad, I might be tempted if it subsequently dipped below £199 and the battery life was actually as "exceptional" as suggested by Toshiba. However there should be quite a few more similar tablets released following the Windows 8.1 launch, so alternative choices might prove to be even better. For instance, during their hands-on, The Verge found this Toshiba to be "too chubby" compared to the iPad mini.