Microsoft is about to launch a worldwide promotion, cutting the price of its Surface RT tablets by more than half. This ARM-based tablet PC will be available for as little as US$199, a massive reduction on the MSRP of US$499. The special discount, aimed at educational establishments, will kick-off on 24th June and while it is scheduled to finish on 31st August, it is also flagged as 'while stocks last'.
The offer was published by a Microsoft employee a few hours ago and subsequently taken down. It is understood this is due to a mix-up in the dates pertaining to the launch of the offer. Since the original post has been taken down ZDNet's Mary J Foley has received confirmation of the offer and a date of 24th June from a Microsoft spokesperson. The official statement says "Yes, it's true. Its important Microsoft does its part to help get devices into the hands of educators that help prepare today's students with skills modern businesses demand. We will be discussing this more in greater detail on June 24, both from the ISTE showroom floor and on our Education Newsroom. Please join us then!"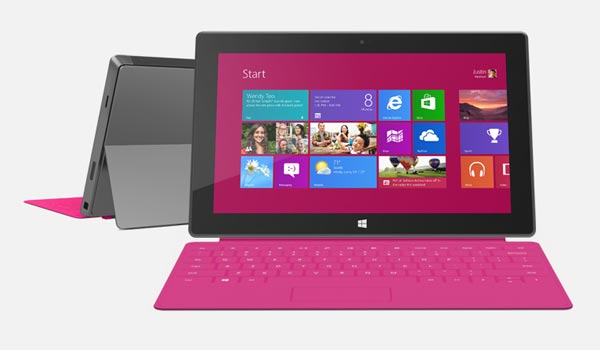 So now we know that this is going to happen and when, what are the other details of the offer? Well, the original Microsoft blog post went down, but not before it was squirreled away by ZDNet. The offer will be available to schools and higher education establishments only. There is no minimum order, but a form has to be filled in. The offer is targeted at the "traditional back-to-school time frame" in the northern hemisphere.
The upcoming cut price offer isn't USA only, it includes the following countries: Australia, Austria, Belgium, Canada, China (via Digital China), Denmark, Finland, France, Germany, Ireland, Italy, Japan, Korea, Mexico, Luxembourg, the Netherlands, Norway, Portugal, Russia, Singapore, Spain, Sweden, Switzerland and last but not least, the United Kingdom.
Microsoft is thought to have been overly optimistic in its manufacturing orders for the Surface RT and would probably like to clear stock before any Surface II devices come along. Recently, at a major educational conference in the US, Microsoft gave away 10,000 of these tablets to teachers.
While we wait for this special educational deal to be launched, Microsoft is offering a comparatively stingy free touch cover with Surface RTs sold right now, the base model costs £399 in the UK. Converting the $199 US dollar educational offer price today results in a price of about £125 GBP.