A news article published by the Wall Street Journal (WSJ) says that Microsoft is hard at work developing a Surface mini; a 7-inch version of its Surface convertible tablet computer. The mini strategy wasn't part of Microsoft's plans last year but is a response to the market dynamics suggests the WSJ source.

According to the WSJ source, a "person familiar with Microsoft's product plans", a new lineup of Surface tablets is in development including the all-important mini version, sporting what is said to be a 7-inch screen. Microsoft's evolving strategy is a reaction to the obvious popularity of smaller tablets in retail. The Apple iPad mini, Google Nexus 7 and Amazon Kindle Fire tablets have all been successful selling into the smaller and cheaper side of the market. The WSJ points out that these smaller tablets have taken a lot of sales from the larger offerings and they accounted for half of all tablets sold in Q4 2012, even though some were newly introduced.
We just reported about the steep decline of the PC market during Q1 2013. Microsoft needs this tablet "plan B" in case ongoing efforts to revitalise PC sales stumble. While Microsoft prepped a Surface tablet in time for last year's Christmas season it only has a negligible share of the tablet market. Microsoft came out with its rather expensive 10-incher only to witness the surge of sales of cheaper mini-tablets.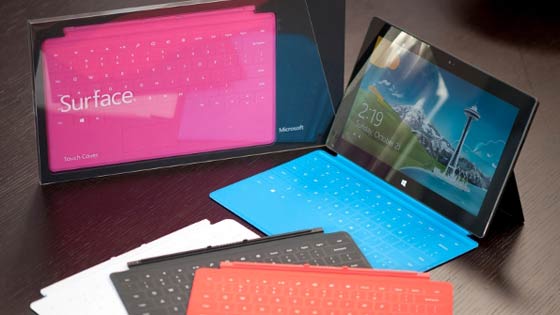 Microsoft Office for iOS and Android
In other Microsoft tablet related news it has emerged that Microsoft Office for tablet rivals using Android and iOS mobile operating systems will be released in Autumn 2014. This info comes from a leaked roadmap uncovered by ZDNet's Mary J Foley. If Microsoft moves too slowly it will face the danger of alternative office productivity suites becoming entrenched and losing many potential sales. On the other hand Microsoft doesn't want to make rival mobile OSes more attractive.