There are mountains of tablets on the show floor at CES, and most of them seem to be based on ARM processors. Intel's not out of the game yet, though, and we had a chance to take a quick look at an upcoming tablet based on the company's unreleased Oak Trail Atom platform.
The slate is being developed by Australian company Evolve Three and should be released worldwide at some point in Q2, once Intel's new dual-core SoC is ready for prime time. The decision to use this chip means that the 10in tablet should be able to last for around eight hours between charges and anecdotally the reps on hand told us that it had been running a very intensive Flash demo on the show floor for six hours before the battery got to three per cent.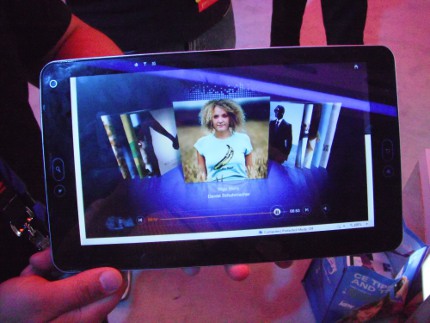 What Evolve Three hopes will make this device stand out is the fact that it'll ship with Android, MeeGo and Windows 7 out of the box. Although we were told that a custom layer for Windows was in the works - imagine a mash-up of Windows Phone 7 and Android - it was MeeGo that had the developers really excited. A virtualised version was running on the device, and while the combo of pre-release software and hardware were still a little rough around the edges, it certainly seemed like it would make for a finger friendly consumption focussed interface.
Unfortunately, there'll be no quick way to switch between the different operating environments, although we were told to expect something special for switching from MeeGo to Windows.
We expect to hear more from Evolve Three in the near future, and based on what we've seen, we're looking forward to getting more time with this new device. The tablet should be launching this spring, and the company is aiming for a $500 (£390 inc VAT) price point.