Chinese manufacturer OnePlus has been on a mission to deliver a premium smartphone experience without the absolutely premium prices charged by the likes of Apple and Samsung for their flagship devices.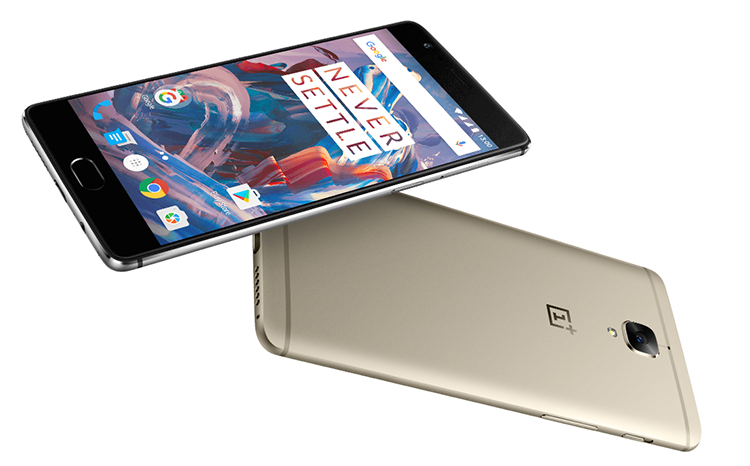 A fingerprint reader scanner is just below the display
Previous OnePlus phones have been launched through an invite-only system, regulating demand with manufacturing capabilities, but frustrating would-be customers. This changes with the latest phone announced yesterday, the OnePlus 3, priced at £309, or a little more than half as much as, say, the Galaxy S7 Edge or iPhone 6s.
OnePlus 3 uses the Qualcomm Snapdragon 820 SoC in a quad-core Kryo CPU and Adreno 530 GPU configuration, also used in variants of the aforementioned S7 Edge, HTC 10 and Sony Experia X Performance. Backed by 6GB of memory and an impressive standard 64GB of storage, there's perhaps less of a need for the SD slot which would be otherwise conspicuous by its absence. The device's unibody anodised aluminium build enables OnePlus to keep thickness down to just 7.35mm.
Measuring 152.7mm by 74.7mm, OnePlus follows many other premium smartphones by using a large screen, 5.5in here, though with a difference; the third-generation model features an AMOLED 1080p Gorilla Glass-protected screen rather something more esoteric in terms of resolution, helping keep costs in check. A customised version of Android 6.0 Marshmallow, known as OxygenOS, is the shipping operating system.
A couple of features missing on the OnePlus 2 make an appearance here; NFC and Dash Charge, with the latter being able to charge the 3,000mAh battery to over 60 per cent capacity in 30 minutes. A front 8MP snapper is joined by a 16MP shooter on the back using a Sony IMX 298 sensor found in the Huawei Mate 8 and Asus Zenfone 3, amongst other devices.
From what we can gather perusing the specification sheet and taking a good look at the images, OnePlus is getting closer to its aim of producing a real 'flagship killer'. Sure, it doesn't have the brand appeal of Apple - whether that's a good thing or bad depends on how you view the fruity company - and looks aren't as distinctive as the Galaxy Edge range, but we reckon the OnePlus 3 will gain reasonable traction due to its considerably lower street price.
What about you, interested in this 'flagship-killing' handset for £300 or so?