Fancy carrying a stun-gun disguised as a mobile phone? Well, it's illegal in the UK, so don't try to buy one while abroad - or order it over the net. Even so, it would be rather nice to know that if someone tries to mug you, especially if they're after your cellphone, they'd be in for a nasty shock!



This little stunner goes out for a mere $80 (shipping is free on two or more) and is available online to US citizens (though only in certain states) from TBO-TECH Self Defense Products.

Rather than paraphrase the company's description of the product, we thought we'd let you read it in full - it's just too good to mess with (and, anyway, we were worried it would be us getting the nasty shock while out and about one night if we didn't accurately describe it).



Cell Phone Stun Gun with Personal Alarm

This Cell Phone Stun Gun incorporates its unique design to give you a tactical advantage. Personal Alarm and 180,000 volt stungun with case. Cellphones are carried by almost everyone these days. No one will think that yours is actually a non-lethal self-defense weapon.

It also has a safety switch to prevent the stun gun from accidentally discharging.

Choose from either navy blue or pearl silver and the cell phone stun gun comes with a free genuine leather carrying case.

Uniquely designed right into a regular cellphone body so there's no question of how it looks. It's authentic! Just don't let anyone make a phone call! :)

Stun Devices can not be shipped to New York, Massachusetts, Illinois, New Jersey, or the city of Philadelphia, PA.

Does Not Work as a Cellphone, only a Stungun :)




You've gotta love those little smilies!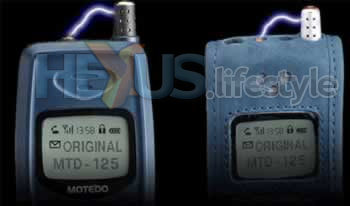 And, of course, you want to know all about the features and specs, we're sure.




FEATURES

* STUN GUN DESIGNED TO LOOK LIKE CELLULAR PHONE (DOES NOT WORK AS CELLULAR PHONE).
* SAFETY SWITCH
* SPECIAL POLARITY DESIGN TO ASSURE THE CORRECT INSTALLTION OF BATTERY.
* EASY TO OPERATE EVEN INSIDE THE CARRYING CASE.


FUNCTIONS

* 180,000 VOLTS
* SIREN ALARM: UP TO 130dB


SPECIFICATIONS

* DIMENSION: 6" x 2" x 1" (L x W x H)
* NET WEIGHT: 5.3 OUNCES WITHOUT BATTERY
* POWER SUPPLY: 9V DC ALKALINE BATTERY


ACCESSORIES INCLUDED

* GENUINE LEATHER CARRYING CASE (WITH BELT-CLIP)
* WOVEN WRIST STRAP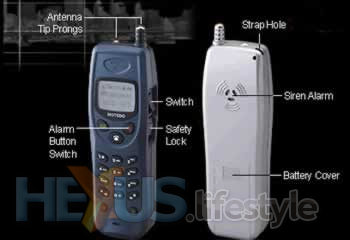 Comments? Go on, shock us - over in the HEXUS.community.



HEXUS.links



HEXUS.community - discussion thread about this article
TBO-TECH Self Defense Products - Cellphone stun-gun home page