Toshiba has announced a new camera sensor aimed at smartphones, tablets and other mobile devices. The Japanese electronics company says that the new sensor unit, the TCM9518MD camera module can facilitate Lytro-style refocusing after shooting functionality. Also resolution boosting, by combining the two images from the twin- 5-megapixel sensors, results in comparable image quality to current 13-megapixel sensors, but using a thinner profile module which 'digitally focuses'.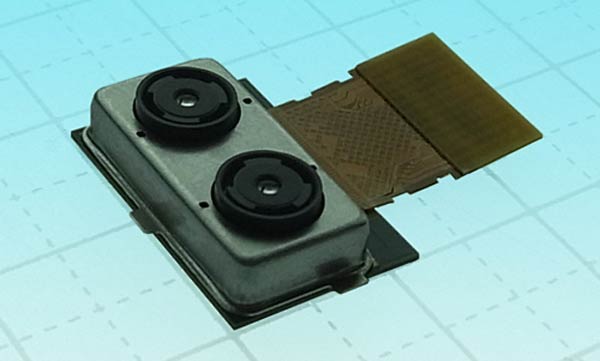 The TCM9518MD camera module will allow device makers to "realize a focus adjustment feature and objects extraction after images are captured" using in-device software. While the twin ¼-inch 5-megapixel cameras simultaneously record images a dedicated companion LSI in the module measures and appends depth data to objects in the image. As mentioned in the introduction, Toshiba says that in device software can use these data sets to create a "focus adjustment feature". Another possibility for devices using the TCM9518MD camera module is image extraction, removal or replacement. Just think of the fun people can have with that feature built into their smartphones.
Toshiba has another good reason for device makers to use the new dual-lens sensor in their devices. Thanks to the LSI in the camera module, it is possible to combine the twin 5-megapixel sensor data to "improve the output resolution to approximately the same level as 13M-pixel smartphone cameras". Thus device designers may choose to use this sensor because it is thinner than today's 13-megapixel camera modules, says Toshiba. A thinner module is facilitated by the lenses containing no moving parts but being able to digitally focus anywhere within their respective depths of field.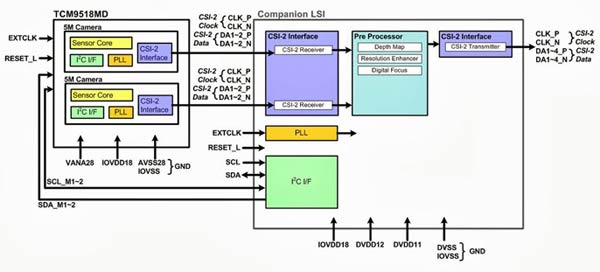 TCM9518MD key specifications
Lens: 4 elements, f/2.4, 61.8 degree (horizontal) FOV
Sensors: ¼-inch 5-megapixel resolution (1.4 µm pixel size) × 2
Output: 13-megapixel single image, 5 M (5 M × 2 mode / 5 M single mode), Depth map (VGA)
Frame rate: 24 fps @full resolution, 30 fps @1080p, 60 fps @720p, 120 fps @VGA
Module size: 18.0 x 12.0 x 4.65 mm
Samples of the new camera module will be available in January with mass production scheduled for April 2014. The bulk price for these camera modules is just over £30.