Taiwan based Polytron Technologies is beavering away on making the world's first transparent smartphone hardware. Late last month the see-though mobile was featured by several news websites but now the guys over at MobileGeeks have flown over to enjoy a bit of hands-on video time with the prototype.
A transparent smartphone is a bit of a geeky sci-fi dream, it might not be especially practical but it is does sound desirable. Also it looks like it might be achievable soon thanks to the engineers at Polytron. At the moment the hardware doesn't have any software installed upon it, no operating system, it is purely hardware to see what can be done with current technologies.
A key part of Polytron's smartphone design is the use of Switchable Glass. This glass contains liquid crystal molecules. Using electric current the molecules can be made to display images; your smartphone display. Currently when the smartphone is powered down the molecules position randomly, giving the glass a milky appearance.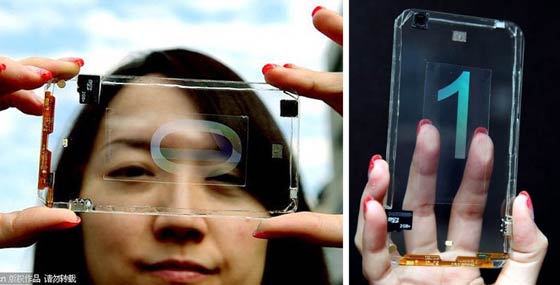 Letting down the smartphone prototype with their lack of transparency are a variety of components which have no transparent options as yet. You can clearly see the microSD card, batteries and microphone in the prototype. If there was a SIM card you would clearly see that too. It comes to my mind, of all the phones on the market without SDcard expansion, surely this transparent one could be excused for the omission... Also transparent memory chips are on their way. Later prototypes may be designed with a darker glass covering the base of the phone where most of the opaque electronics could be squirreled away.
When will something based upon this prototype hit the market? Polytron's Sam Yu said, on Wednesday, "It will happen near the end of 2013. Trust me." Who will be working with Polytron or using this technology? Yu boasted that "All handset makers are looking to work with us".