In a rather ingenious feat, Ubuntu developer, Canonical, is nearing completion of a new version of its latest OS, likely based on the upcoming 12.04 LTE release, that is capable of running along-side Android on high-end dual-core smartphones.
The idea is to provide a full-blown desktop experience when docking a smartphone. What's most impressive is that, as opposed to a separate virtualized solution or dual-boot scenario, the OS has been re-jigged to share the Android kernel, enabling the safe sharing of resources and data by going through the same kernel access layers; even receiving calls on the Ubuntu desktop whilst docked.
The OS will require at least a 1GHz dual-core device, hardware accelerated OpenGL/ES, 2GB of storage for the image, HDMI out with a second frame-buffer, USB host mode and 512MB of RAM.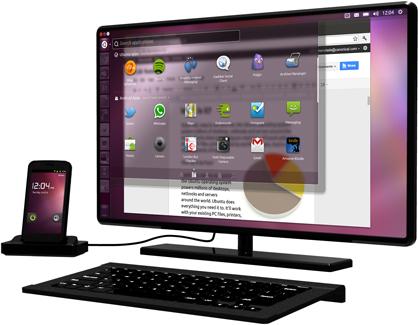 Canonical is currently looking for interested OEMs, with a view to launch on year-end devices and with phones featuring new 28nm CPUs such as the recently benchmarked Qualcomm MSM9860, the desktop OS is likely to perform very well indeed.
Ubuntu for Android has us extremely excited!