Apple has released an update to its new-look iOS 7. The headlining addition that comes with iOS 7.1 is a feature called CarPlay which puts iOS features onto your (compatible) in-car display. Apple also brought various other improvements, tweaks and bug fixes in this update. This update is a free 1.4 to 1.5GB download for all compatible devices.
So the biggest new feature in iOS7.1 is the CarPlay functionality we learned about last week at the Geneva International Motor Show. Apple says this new feature "takes the things you want to do with your iPhone while driving and puts them right on your car's built-in display". These tasks include making calls, sending and receiving messages and getting directions. Also you can access iOS entertainment services like music playing and streaming.

CarPlay can be controlled while driving using the natural ergonomic controls in your car – whatever they may be. It works with your cars' knobs, buttons and touch-screen – just like the built in facilities. However, thanks to your iPhone, you also have Siri at your beckoning. This year prospective CarPlay users will be able to buy compatible cars from the likes of Ferrari, Honda, Hyundai, Mercedes-Benz and Volvo. Other manufacturers including Ford, BMW, Nissan and Toyota will also be building cars with CarPlay in the future. Carplay currently requires an iPhone 5, 5S or 5C.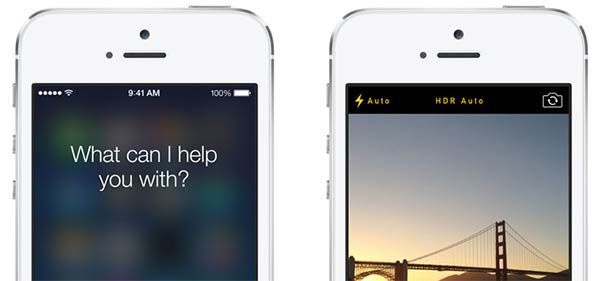 Other improvements in iOS 7.1 include;
Manually control when Siri listens by holding down the home button while you speak and releasing it when you're done as an alternative to letting Siri automatically notice when you stop talking. Plus new, more natural sounding male and female voices for Mandarin Chinese, UK English, Australian English, and Japanese
Calendar option to display events in month view, country specific holidays automatically added for many countries
iTunes Radio gives you a search field above Featured Stations to easily create stations based on your favourite artist or song. Also you can buy albums with the tap of a button from Now Playing
Accessibility is improved with a bold font option now includes the keyboard, calculator, and many icon glyphs. Also users can use 'Reduce Motion' option now in Weather, Messages, and multitasking UI animations
iPhone 5S users can automatically enable HDR functionality
Touch ID fingerprint recognition is improved
An occasional Home screen crash bug has been fixed
iPhone 4 users will enjoy improved responsiveness and performance
The Verge notes that the crash bug mentioned in the bullet points above was particularly annoying to iPhone 5S, iPad mini with Retina display, and iPad Air users ever since the launch of iOS 7. Also if you updated to iOS 7 and felt it was a bit sluggish compared with iOS 6, the new release should feel perkier - especially on older/slower hardware like the iPhone 4 or iPad 2 and original iPad mini. iOS 7.1 is available for iPhone 4 and above, iPod Touch 5G and above, iPad 2 and above, iPad Mini and above.