Tonight Apple took the wraps off the iPhone 5C and the iPhone 5S, it also took time to share some more details about iOS7 and which current iDevices can get that operating system upgrade. The Cupertino HQ breakfast event didn't really provide any surprises after the preceding leaks of specifications, photographs and even videos. For me the biggest surprise was the pricing announced for the Apple iPhone 5C, a device which had been talked about by analysts as a mid-range competitor in the west and a popular wallet-opener in China.

iPhone 5C
The iPhone 5C is pretty much what we expected in looks and specification. What you get is basically the current iPhone 5 model dressed up in Nokia style colourful polycarbonate shells. Apple admits almost as much with the summary statement "A6 chip. 8MP iSight camera. 4-inch Retina display. Ultra‑fast wireless. iPhone 5c has the things that made iPhone 5 an amazing phone - and more, including iOS 7." The new iOS7 can be colour coordinated to complement the overall look of your iPhone 5C.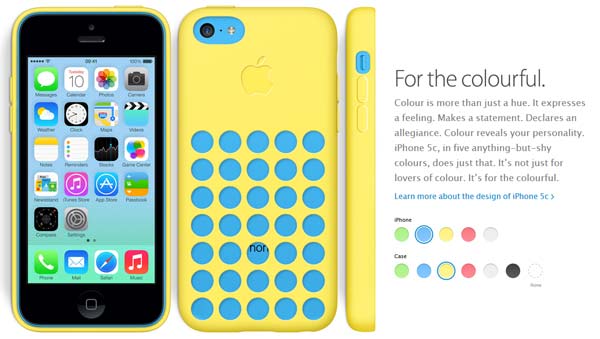 The iPhone 5C can be pre-ordered from 13th September and will ship starting 20th September. Colours available include white, pink, yellow, blue and green. The 16GB version is priced at £469, the 32GB version at £549.
(Nokia tweeted a response to Apple's new design.)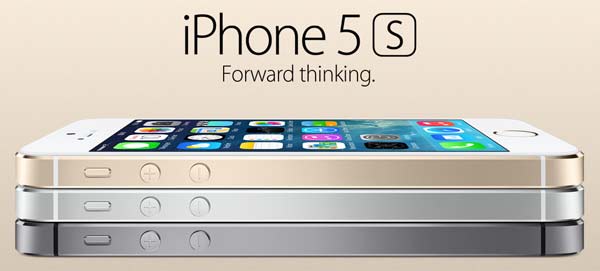 iPhone 5S
Apple's iPhone 5S is an enhancement of the "precedent" set by the iPhone 5. Many of the specs remain the same as we saw in the leaked Chinese spec list a couple of days ago. Confirming that leaked document main detail, the iPhone 5S builds-in; "Touch ID — a fingerprint identity sensor. An A7 chip with 64-bit architecture. An even more impressive iSight camera. And ultra-fast wireless."
Looking more closely at the camera, its spec has been improved by use of a 15 per cent larger sensor, it is 33 per cent more sensitive to light and a larger aperture lens is also a better performer in low light conditions. There's also a dual LED flash in the new smartphone which again helps the camera in low light photo situations.
The much rumoured finger print sensor is present and detailed. The tech is described as "a convenient and highly secure way to access your phone". You can also use the fingerprint to approve purchases from various Apple digital stores. Interestingly the sensor is "capable of 360-degree readability" which should mean it's not as fussy as previous similar tech I have tried. You can program it to allow your friends access to your phone too.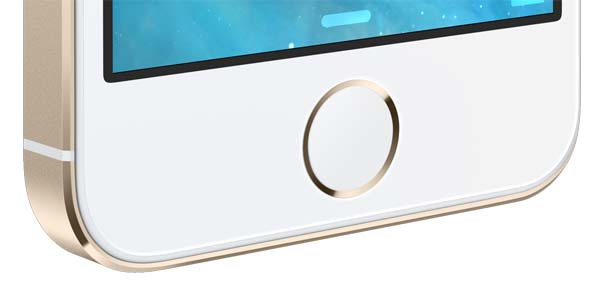 One of the most interesting new aspects of the iPhone 5S are the details of the new 64-bit A7 chip. For a start it is accompanied by "an all-new coprocessor", the M7. Apple says that the new A7 chip is "up to 2x faster than the previous generation in both CPU and graphics performance. It has an all-new image signal processor. And it supports OpenGL ES 3.0, enabling visual effects previously possible only on computers and gaming consoles". Despite all the extra oomph the A7 doesn't impact battery life negatively. This is partly down to the helpful cooperation of the M7 coprocessor. "It offloads work from the A7 chip by collecting motion data from the accelerometer, gyroscope and compass. Apps can then use this data without constantly engaging the A7 chip. Because M7 is engineered for this specific task, it uses significantly less power than A7 would require," explains the official Apple blurb.
The iPhone 5S is available in silver, gold and space grey. Nice new cases are also available in premium pigment rich leather tones. You can order the iPhone 5S from 20th September. The 16GB version is £549, 32GB is £629 and 64Gb is £709.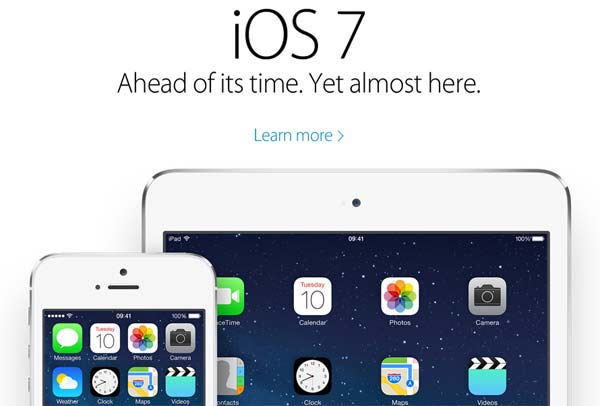 iOS7
Apple's new mobile operating system iOS 7 will be released on 18th September and will be available as a free update from iPhone 4 and newer models and tablets including the iPad 2 and newer, iPad mini and iPod touch (fifth generation).
It seems like investors weren't that impressed with the new Apple iDevices announcement as, following a gradual recovery of the share price in recent weeks and months leading up to this reveal, the Apple share price dropped about 2.5 per cent today.