Apple has revealed the many changes which will come in the update to its mobile operating system iOS. Jony Ive introduced the new iOS 7, which it is hoped will stop Apple users looking with envy at the modern and swish UIs offered by rivals. The new system is said to bring with it some genuinely useful features and also a new monetizing opportunity for Apple with iTunes Radio.
This is the first update of the OS to be overseen by Apple's design guru Jony Ive and he says the design team has been through every aspect of iOS and checked and changed every detail, large and small, to tie in with the new cleaner look. The redesign is supposed to "elevate" user content above peripheral fluff. So the previous skeumorphism evident in many apps has gone; no more leather bound, baize covered or wooden panelled interfaces in Apple stock apps.
The main changes you will see in the new iOS 7 are as follows:
The new look icons and interface with a flatter design but including a tilt-parallax effect. The UI appears to use harmonious colour schemes to your wallpaper picture.
A swipe up control centre with frequently used settings easily accessible such as connection toggles, music player, brightness, volume and utility apps like the calculator, stopwatch/timer, torch and camera.
Notification centre, a swipe down feature is now available from the lock screen with a new overview of your day.
A double tap reveals the new multi-tasking environment which sees which apps you use the most and updates the content in the background for these apps – when you switch to then – the info will be up to date.
The Camera app and Photos app have been overhauled to offer more functionality and ease of use, especially with large photo collections.
Safari has been updated with a new interface and new ways to switch through tabs
Siri has new integration with Wikipedia and Twitter and a choice of male and female voices. Also Siri can now assist in changing phone settings such as toggling your Bluetooth radio.
Finally we have a new service/app called iTunes Radio. This app lets you listen to content focussed radio stations, discover new music and you can even make your own with your favourite songs and genres. It's free to listen to if you don't mind adverts, you can pay a subscription to avoid the ads. You can also opt to buy tracks you like.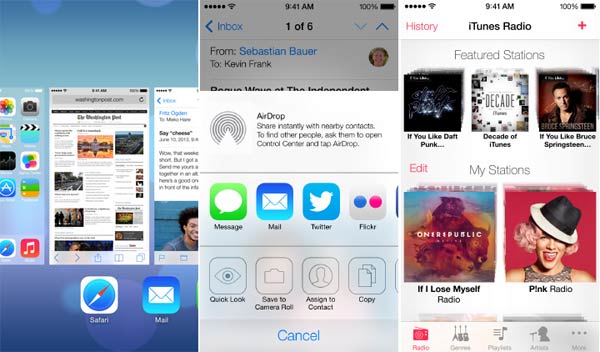 Multitask switcher, AirDrop file sharing and iTunes Radio
Discussing the philosophy behind the new look iOS Ive said "We wanted to take an experience people know very well and actually add to it; to make it more useful, to make it more enjoyable." He concludes; "We see iOS 7 as defining an important new direction and in many ways a new beginning."
iOS 7 will be available "this fall" to owners of the devices pictured below.