Today I have been looking for iPhone 5 contracts. A lot of people are looking to get Apple's latest and greatest smartphone, probably a lot of HEXUS readers included. As there are endless offers and permutations of offers for consumers to pre-order the iPhone 5, I had to set out some criteria to be able to make a meaningful price comparison. I decided to aim for what is the minimum usable contract for me which is at least 300 minutes, 300 texts and 1GB of data. Actually I've been happy with 500MB of data so far but have read several articles mentioning that iPhones use more data than the Android and Windows Phone varieties. Also I stuck with quotes for the base Apple iPhone 16GB version.
The deals that match or exceed my above-minimum requirements are set out in the table below.
Apple iPhone 5 deals meeting or exceeding my minimum criteria (24-month contracts)
| | | | | | |
| --- | --- | --- | --- | --- | --- |
| Network | 16GB iPhone 5 | Minutes | Texts | Data | Price p/m |
| Apple SIM free | £529 | 0 | 0 | 0 | 0 |
| | £79* | 500 | 5000 | unlimited | £34 |
| | £109 | unlimited | unlimited | 1GB | £36 |
| | £99 | unlimited | unlimited | 1GB | £37 |
| | £249 | unlimited | unlimited | 1GB | £26 |
| | £109* | 2000 | unlimited | unlimited | £36 |
*= Cashback possibilities
I checked Quidco and Topcashback for possible cashback offers on the above contracts.
Three; an iPhone 5 pre-order can get you up to £101 cashback via Topcashback. (Or £96.88 via Quidco). Choose what is more reliable for you.
Orange; no iPhone 5 cashback is available.
Vodaphone; no iPhone 5 cashback is available.
O2; no iPhone 5 cashback is available.
T-Mobile; with the above contract you can get £90.90 cashback, according to Topcashback "New iPhone contract" however Quidco cashback with T-Mobile excludes iPhone 5 contracts. So please enquire further if interested in this T-Mobile option.
Dialaphone; no iPhone 5 cashback is available.
CPW; no iPhone 5 cashback is available.
Phones 4U; Quidco suggests £50 cashback for all contract phones. Topcashback says £75 cashback for new contracts excluding iPhone 5, so, again, be careful.
Looking at the total costs over the 24-month contracts above - Three total cost of ownership with a decent usable contract is £794 if cashback tracks and is paid. Orange: £973, Vodafone: £987, O2: £873, T-Mobile: £973 (£882.10 with possible questionable cashback deducted). The virtual network operators I tried to find prices from including Virgin, Tesco and ASDA didn't have any price plans available online.
The T-Mobile 75 minute special
For contracts with very low number of minutes the cheapest I could find was a 12-month contract with T-Mobile, which must be arranged by phoning them up (0800 956 3089). It's £15.50 for 75 minutes, unlimited texts and browsing with an upfront cost of £369.99. Your total spend for the whole year will be £556, not much more than buying the same iPhone 5 16GB version but good for some folk. Note this says "browsing" the internet as I think it doesn't include any download/streaming allowance, which could be a deal-breaker. Read more about this deal at HUKD.
The multi-network mobile phone shop offers
I found that mobile phone shops like Carphone Warehouse, Dialaphone and Phones 4U offered the same kinds of deals as the above networks with slightly different permutations. They offered deals such as lower initial cost but higher line rental amounting to more or less the same thing but usually in their favour... For instance the O2 deal above is £36pm (rather than £26) through Phones 4U but it has the lower initial price of £99 (rather than £249) which adds up to £963 after 24 months. For this very same contract Dialaphone offered the same iPhone 5 for free but with a £46 monthly charge which adds up to a whopping £1104 over your two-year contract.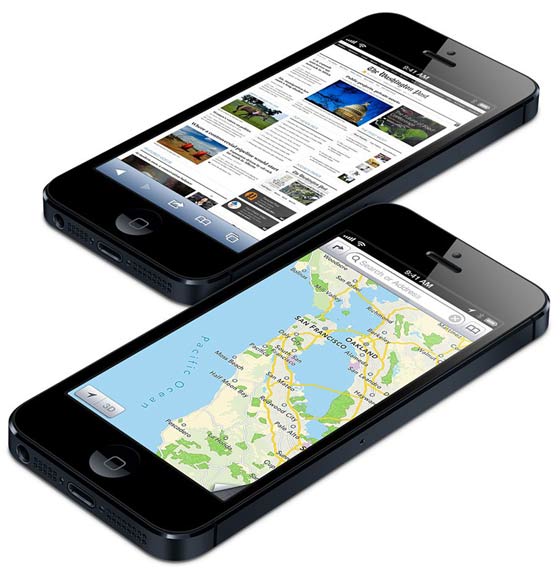 Executive summary
Three has the best deal if you're happy taking the chance with cashback, hitting a possible £794 total cost. Also the unlimited data may appeal to you, only rivalled by T-Mobile's offering. If you don't trust cashback and have £250 in your bank account earning very little, if any interest, you may be inclined to go for the O2 deal, which is the best total 24-month price for a usable contract at £873. Similarly for people with a bit of money, or credit, purchasing the iPhone outright and SIM-free costs £529 and may make good sense (people pay £500-plus for just a handset? - ed). >
There are many great SIM-only offerings that can provide you with a usable SIM for roughly £5 a month with cashback (£120 for 2 years). Check this hottest-ever HUKD thread for more info. Even the popular PAYG option of Giffgaff at £10 per month for 250 minutes with unlimited texts and 'net is an easy option to add to the above SIM-free iPhone 5 to give a total cost of £769 for a 24-month term (I know, I specified 300 minutes in my minimum requirements).
To summarise the summary I would suggest buying the SIM-free iPhone 5 and wheeling and dealing a SIM-only contract + cashback from your favoured network.