How long does it take you to charge up your smartphone? These essentials of our modern lives often seem to run out of juice at the most inopportune moments and even if we get the chance to top up the battery at a work desk or café it might not be enough. With so many manufacturers making handsets with non-removable battery packs we are left to carry around battery packs such as the FUEL+ 9000, if we have planned ahead. Wouldn't it be great if when we managed to get access to a power supply it took less than a minute to top up to 100 per cent?
The Wall Street Journal reports that an Israeli start-up called StoreDot Ltd has developed an extremely fast smartphone charger. The company revealed its prototype charger, which for now works only with the Samsung Galaxy S4, in a video published at the start of this week. In the video you can see the S4's battery level go from an in-the-red 25 per cent to a tip-top 100 per cent in about half a minute. That's fast. If you have you ever watched your phone battery charging icon to see if you can detect progress it was a waste of time until this device was invented.
It's not just the charger that's different; StoreDot uses a custom battery too.
What is the technology behind StoreDot's prototype? The team at the company are from the nanotechnology department at Tel Aviv University and they apply this knowledge and related cutting edge science to speed charging times. In particular StoreDot has developed "biological semiconductors, made from naturally occurring organic compounds called peptides, or short chains of amino acids, the building blocks of proteins," to provide this battery charging speed boost – using its own battery design.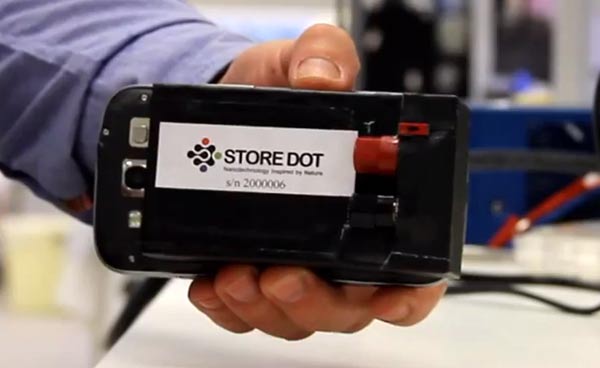 StoreDot plans to make batteries/chargers for other smartphones and release the devices in late 2016. CNN reports that the battery prototypes are about the size of a pack of cigarettes, but the team is also working to reduce this burden on portability. Also a key question arises about whether the StoreDot made battery stamina is equivalent to the supplied standard Li-Ion battery from the smartphone manufacturer.