Talking 2.0
I can't be the only one that has felt frustrated at the limitations of text messaging - be that phone texts, IM, email, social media, whatever. There's just only so much you can convey through a written dialogue, and emoticons/smilies are a crude and limited way of nuancing communication, only a slight improvement on the dreaded exclamation mark!!!
It's this frustration, and apparent gap in the communications market, that a startup called CloudTalk is attempting to resolve with its smartphone app. In essence CloudTalk combines the convenience of messaging with the richness of voice, by enabling you to communicate via instantly-delivered audio files.
This isn't a concept that's easy to immediately grasp, so I met with founder and CEO David Hayden (pictured) and CMO John Linney to experience CloudTalk first-hand and find out the thinking behind it. "We're here to get people talking again," said Hayden, a veteran Silicon Valley entepreneur. "People increasingly use asynchronous communication, so we've introduced voice into that environment."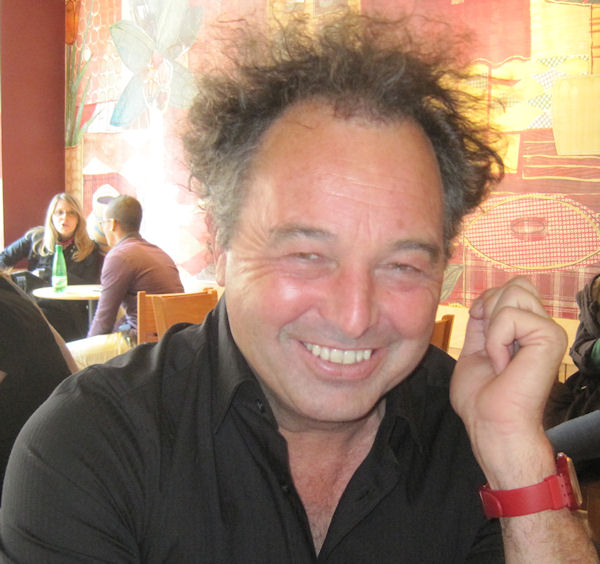 By asynchronous communication, Hayden was referring to all the various means of communication we use where we take it in turns to say our bit then wait for a response, as opposed to the more dynamic dialogue that happens when we actually talk to each other, especially face-to-face. It speaks volumes that Hayden was so keen to meet up - he knew that remains the best way to get your message across.
I suggested there's a spectrum of social engagement - of the commitment you make to interacting with another person - in the digital age. At one extreme you have emails, which you send without necessarily even expecting a response the same day. Then you have things like SMS, then dialogue based on social platforms like Facebook and Twitter, and then IM clients like Windows Messenger.
At the other end of the spectrum you have: actually meeting someone face-to-face, something I've heard still happens from time to time. A lesser commitment, but still more dynamic than texting, is a phone call or, I suppose, a video call. CloudTalk aims to reside at a point more or less equidistant between these two extremes of social commitment.
A new version of the app was released yesterday, but it's been in development for over a year, having originally been called pana.ma. The new version features enhancements to multimedia messaging - including video - group messaging and integration with Facebook and Twitter. The app is free, and the business model focuses on developing bespoke apps for companies.
I downloaded the app and gave it a go. Our CloudTalk thread is shown in the image below and, as you can see, you can not only involve more than two people in it, you can IM other media such as images, as well as audio files. You listen to the voice file by touching the associated speech bubble and sending one is as simple as recording, then hitting 'send'. The message is stored indefinitely in the cloud - hence the name.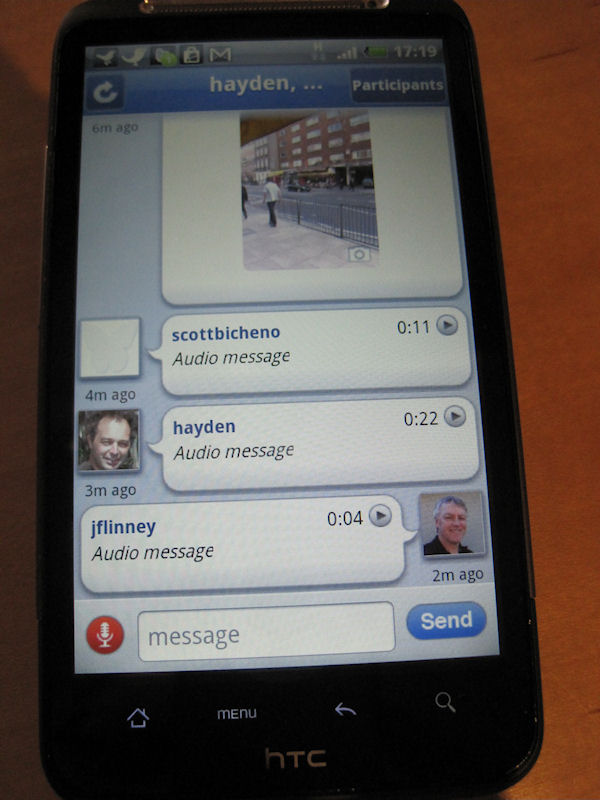 "People are actually ringing each other up less often and leaving voicemail is a bit of a pain," said Hayden, pointing out that busy people often prefer not to pick up unsolicited calls. Once I'd used it a few times it reminded me a bit of playing with Walkie-Talkies as a kid; sending and receiving a sequence of short, throwaway bits of voice communication.
But I haven't used a Walkie-Talkie in years, and this is the challenge CloudTalk faces: convincing people they need another mode of communication to add to the portfolio already available to them. CloudTalk feels like one of those apps that will either go viral and become ubiquitous, or remain a niche product used by geeks.
The need for this kind of enhanced messaging platform may not be immediately obvious to many, but then five years ago did you feel the need to publish your every waking thought in 140 characters or less? I certainly didn't, and to a large degree still don't, but I certainly can't question the ubiquity of Twitter.