Counting chips
Just before reporting another strong quarter, low-power chip designer ARM announced it had sold Cortex A15 CPU and Mali GPU licenses to LG. This lead me to assume LG will soon be designing its own SoCs, much in the way Samsung and Apple have.
A few other announcements caught my attention today that reminded me just how heated the SoC market has become and I thought it was worth a recap of just what's on offer at the high-end and what's on the horizon.
We're very much in the dual-core SoC era now and, just as Henri Richard of Freescale fears, handset-makers' marketing departments are wasting little time in referring to crude metrics as an indication of the superiority of their products.
Earlier this week LG released an amusing video covering a bit of guerilla marketing it did on London's Oxford Street to promote its first dual-core smartphone - the Tegra 2 Optimus 2X.
This week also saw the first UK reviews of the Samsung Galaxy S II, which contains Samsung's own Exynos 4210 SoC - the successor to the Hummingbird chip in the original Galaxy S. The Exynos is based around ARM's Cortex A9 CPU design, but Samsung has gone for ARM Mali graphics this time, rather than Imagination Technologies'.
And Qualcomm has been unusually frisky on the press release front this week too. As well as announcing the commercial release of its augmented reality platform, the chip giant has also been keen to bring attention to its new Mobile Development Platform (MDP), built around its dual-core MSM8660 SoC, which clocks the chip to 1.5GHz per core and is yours for a mere $1,350. We took a vid of the previous MDP, but Qualcomm beat us to it for the latest one.
As if all that weren't enough, we now have the iPad 2 with Apple's dual core (ARM Cortex A9 + Imagination SGX543) A5 chip, which has already been joined by a host of Tegra 2 tablets and will soon see the addition of the HP Touchpad (Snapdragon APQ 8060 - essentially an MSM 8x60 with the modem removed), and the BlackBerry PlayBook (TI OMAP 4430 - Cortex A9 + SGX540).
Pretty confusing so far, we concede, so why not complicate things yet further by looking forward to the next generations of SoC, that will see big jumps in clock speed and core count? Qualcomm was the victim of a leak this week that showed how it's positioning its future Snapdragons.
Qualcomm is one of the few mobile chip-makers that doesn't license ARM CPU core designs. All Snapdragons to date have used its own Scorpion CPU core, and it's set to move to the Krait core - which clocks up to 2.5GHz, in chips that are already sampling to customers. So it came as no great surprise to see Qualcomm trying to compare its own CPU cores favourably to ARM ones.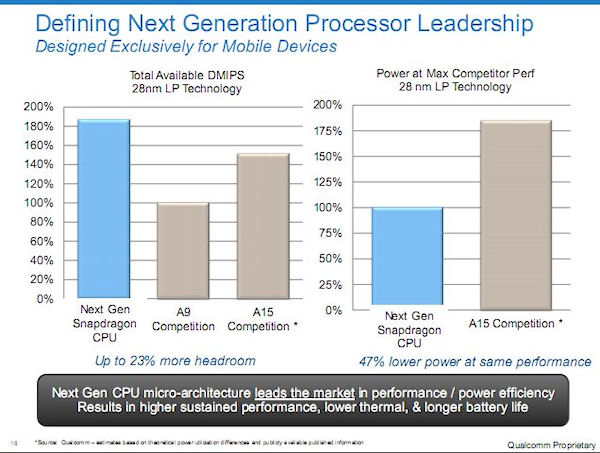 Image courtesy of mobiletechworld
It won't be long before we see quad-core SoCs, with the Cortex A9 design being scalable to that extent. Once more NVIDIA is striving to be the first to reach this threshold, having predicted its Kal-El chip may appear in devices as early as August of this year. We're not expecting to see quad-core Snapdragons until well into next year, and it may be that Apple and Samsung will have moved up to quad by that stage. The first Cortex A15-based chips are expected to appear next year too.
In short, there's a hell of a lot of choice and variety in the SoC market right now and that's only set to increase. So I decided it was time to draw up a table of what's on offer now and in in the near future on the high-end SoC front, with the aim of simplifying things a tad. My own speculations are in italics.
| | | | |
| --- | --- | --- | --- |
| SoC | CPU | GPU | Devices/availability |
| Qualcomm Snapdragon MSM8x60/APQ8060 | 2x Scorpion <1.5GHz | Adreno 220 | HTC Sensation, HP TouchPad |
| NVIDIA Tegra 2 | 2x Cortex A9 1GHz | 8x ULP GeForce | LG Optimus 2x, Motorola Xoom |
| Apple A5 | 2x Cortex A9 1GHz | SGX543 | iPad2, iPhone 5? |
| TI OMAP 4430 | 2x Cortex A9 1GHz | SGX540 | BlackBerry PlayBook, LG Optimus 3D |
| Samsung Exynos 4210 | 2x Cortex A9 1GHz | Mali-400 | Samsung Galaxy S II, |
| Snapdragon MSM8930 | 1x Krait <2.5GHz | Adreno 305 | Sampling early 2012 |
| Snapdragon MSM8960 | 2x Krait <2.5GHz | Adreno 220 | Sampling Q2, in devices 1H 2012 |
| Snapdragon APQ8064 | 4x Krait <2.5GHz | Adreno 320 | Sampling early 2012 |
| OMAP 5430 | 2x Cortex A15 <2GHz | SGX544 | Sampling 2H 2011, in devices 2H 2012 |
| NVIDIA Kal-El | 4x Cortex A9 1GHz | 12x ULP Geforce | Sampling now, in devices 2H 2011 |
| Apple A6? | 4x Cortex A9 1GHz | SGX544 | Could be in the iPad 3 early 2012 |
| Next Gen Samsung | 4x Cortex A9 1GHz | Mali T-604 | Could be in the Samsung Galaxy S III early 2012 |
| Future LG chip | 4x Cortex A15 <2GHz | Mali T-604 | Late 2012? |