Move Over, Isku
We all have our favourite gaming keyboards, but if you're looking to mix things up or go mechanical, Roccat is vying for your attention with the new Ryos MK Glow.
Arriving at retail stores in time for Christmas with a £120 price tag, this premium bit of kit is described by the manufacturer as "the most advanced, most customizable mechanical keyboard ever." High expectations, then, and so there should be, as the Ryos is the spiritual successor to the well-received Isku.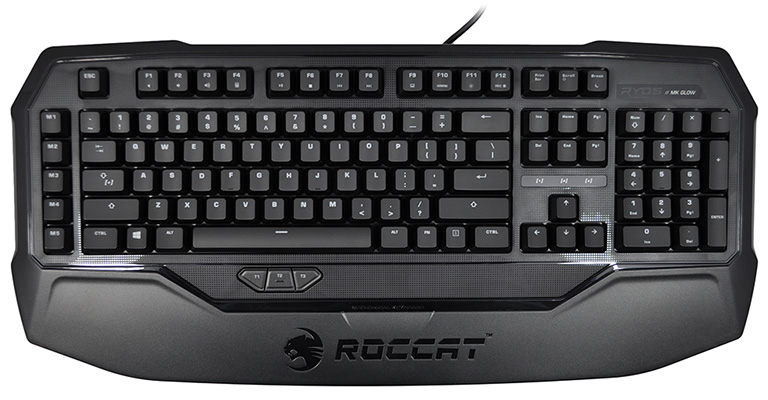 This time around, and in an effort to appeal to as broad an audience as possible, Roccat will be making the Ryos MK available in three unique flavours. In addition to the standard model (£90), there's an LED-backlit MK Glow (pictured, £120), and a range-topping MK Pro (£150) that touts per-key illumination as well as an integrated media hub with two USB ports and audio passthrough.
All three models tout a full compliment of Cherry MX keys, and both the MK Glow and MK Pro are to be offered with a choice of switches. While the standard Ryos MK is only available with Cherry MX Black, the MK Glow is available with either Black or Brown switches, and the MK Pro has four options; Blue, Black, Brown or Red.
Roccat has a brief guide to help you determine which is the right switch for you, but in our experience you really have to try them in person to know which is the best fit. Either head down to your nearest PC store to get some hands-on time, or if you're serious about your gaming peripherals, get yourself a Cherry MX sampler kit to get a true feel for the unique differences between switches.
Design
We've been sent a middle-of-the-pack Ryos MK Glow in a Cherry MX Black configuration for the purpose of this review, and though our sample carries a US layout, UK readers should be aware that localised models do vary. It's worth noting that the UK layout has a double-height enter key, which we much prefer.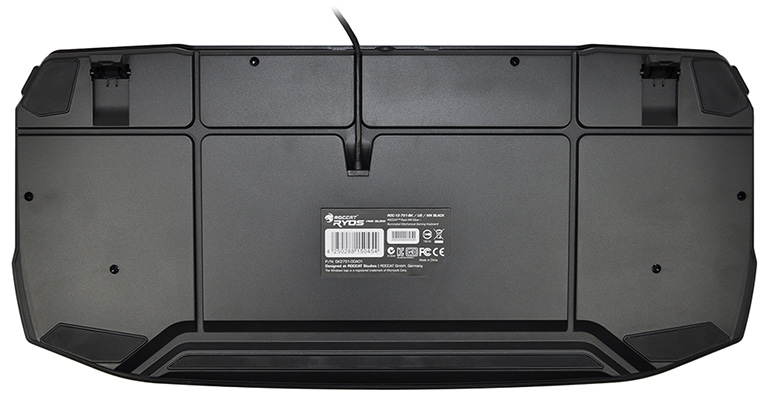 Flipping the keyboard over reveals five rubber pads that help keep the device in place, two pop-out stands that create a small incline, a centrally-mounted USB 2.0 connection cable, as well a series of cable-routing channels. We imagine these would be most useful on the MK Pro, where a USB mouse could be attached and the cable routed neatly underneath the device.
The keyboard as a whole is bulky in appearance - even by gaming standards - and measures 23cm x 51cm in size. However, making good use of the available space, Roccat has included a total of 113 keys - all of which are backlit and feature anti-ghosting with n-key rollover - as well as a spacious, non-detachable palm rest.
Construction material is mostly plastic, yet overall build quality is good. There's a small amount of flex in the palm rest, and the Ryos understandably doesn't feel as stiff or robust as competing aluminium solutions, but there are no squeaks or rattles and we suspect the board will put up with a fair amount of abuse.
Switches and Layout
But let's talk about those Cherry MX Blacks, shall we? Having become accustomed to Cherry MX Reds, we couldn't help but find this particular Ryos weird to begin with. That's not to say it's bad - not by any means - but you do notice the difference and you need to be certain of switch selection before making your purchase.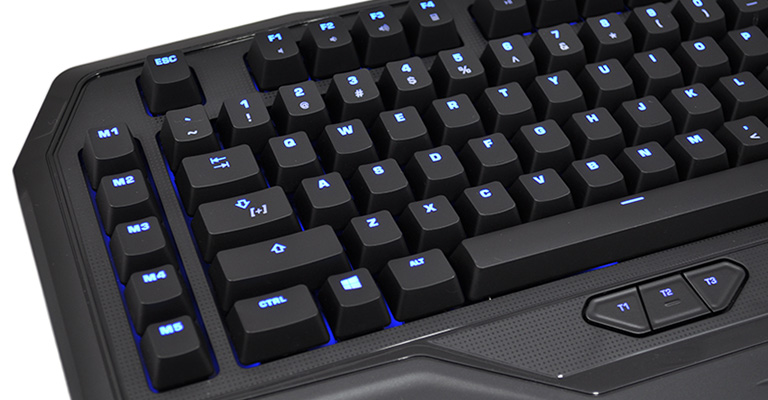 Black and Red actually have a fair amount in common - both are linear switches and offer no tactile feedback or audible click - but while Reds have a low actuation force of 45g, Blacks require 60g of force and feel significantly stiffer as a result. The high actuation force should, in theory, result in fewer accidental presses, but it takes some getting used to - we've been using the keyboard for over a week, and we're still itching to go back to more-familiar Reds.
Switch preference aside, we found the rest of the Ryos MK Glow to be most agreeable. Below the spacebar are a trio of 'thumbster' keys, five macro keys line the left side of the board, and there's a full-size numpad on the right. F1 to F12 double as multimedia shortcuts - though it's a shame there isn't a dedicated control for volume - and on the whole the key layout serves up few suprises.
Roccat's blue LED backlight works well, with five brightness settings and plenty of illumination at the highest setting, but perhaps by design, the individual LEDs are placed high on each key, resulting in dim backlighting on secondary functions (i.e. 1 is bright, ! isn't). We've come to prefer it this way, as the primary key functions remain most prominent, and in the flesh, the board looks like a serious piece of gaming equipment.
All the keys are surrounded by a micro-dotted keyboard tray - which Roccat tells us is smudge- and fingerprint-resistant - but there's no such protection for the palm rest; ours is already looking a little grubby. Overall, the hardware is solid and comfortable during use, however it's the accompanying software that brings the Ryos MK Glow to life.