2013 - year of the Ultrabook?
2012 was supposed to be the year of the Intel-sponsored Ultrabook. Though hard-and-fast numbers are difficult to come by, analysts believe that fewer than 10m svelte laptops were shipped in 2012, down from 20m-plus estimates earlier in the year. Citing problems such as obstinately high prices and limited connectivity, Ultrabooks have failed to make suitable incursions into the mainstream market.
But 2013 should see renewed interest in these sleek, sexy laptops. Intel is set to bring a new micro-architecture, Haswell, to bear, and a greater number of partners will be dipping their toe into this premium computing space.
Starting off this year by hoping to make a splash, Gigabyte, better-known as a purveyor of PC hardware components, is releasing a series of high-end Ultrabooks with all the trimmings. Shipping with a discrete NVIDIA graphics card and powered by an Intel Core i7 chip sipping no more than 17W, let's welcome the U2442 to the review table.
Design
Gigabyte refrains from using an off-the-shelf chassis and opts for a premium look for this 14in Ultrabook. Depending upon just how the light strikes it, the 'dark-champagne' lid, presented in a brushed aluminium finish, looks either grey or gold. Measuring 339mm wide and 233mm deep, the 18.5-21mm height - the maximum permissible for a 14in-plus laptop under Intel's Ultrabook guidelines - and 1,600g weight makes it feel suitably thin and portable.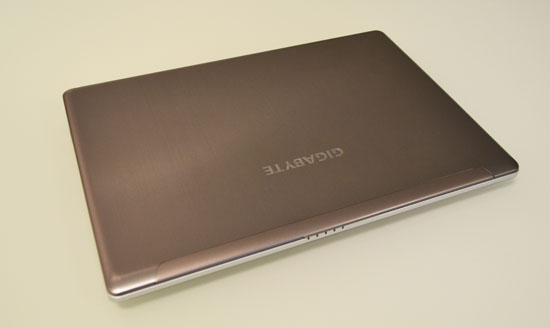 Initial impressions are favourable, as the Windows 8-totin' U2442 has a solid fit and finish. Give it a good twist with both hands and there's no give, rattle or squeaks. The lid is perfectly aligned with the deck and it feels better built than a run-of-the-mill notebook. It should, too, as this box of tricks weighs in at a cool £910.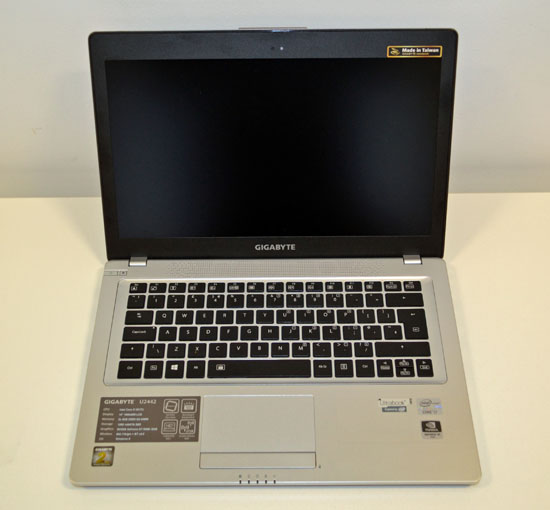 The deck, meanwhile, is built from plastic, but it doesn't feel cheap and, like the lid, is surprisingly rigid. Chiclet-style keys, which can be backlit to one of three intensities - a nice touch - sit a comfortable distance away from the trackpad. Key ergonomics are very much a subjective issue, but we found that both travel and springiness felt somewhat dead, with little in the way of feedback for when a key had bottomed-out. The U2442's keys aren't bad, you understand, but we prefer the longer travel exhibited by many Lenovo and HP machines.
Trackpad-wise, this Ultrabook supports multi-finger and Windows 8-specific gestures, meaning you can easily scroll pages, pinch-to-zoom, and swipe in from the sides to bring up the Charms bar. The textured pad is responsive and accurate, though we'd prefer two separate underlying buttons instead of the single bar that can make it difficult to ascertain just where the button has been clicked.
Five blue LEDs provide feedback for Bluetooth, WiFi, hard drive, battery and backlight status. Rather neatly, holding down the right trackpad button whilst the laptop is an off state provides a rough-and-ready indicator of battery life - three out of five LEDs light up if there's, say, 60-80 per cent juice left.
The top-left of the deck is home to two keys - the expected power button and a Gigabyte-specific button dubbed 'Smart+'. With the U2442 switched off, hitting this button loads up 'Smart Setup' and enables the user to enter the BIOS or, rather more usefully, initiate a partial or complete system restore/reinstall. Easy-to-follow instructions enabled us to bring the laptop back to a factory-fresh state in around 45 minutes. Press the same key in a Windows environment and 'Smart Manager' offers an easy way of controlling a number of commonly-used functions.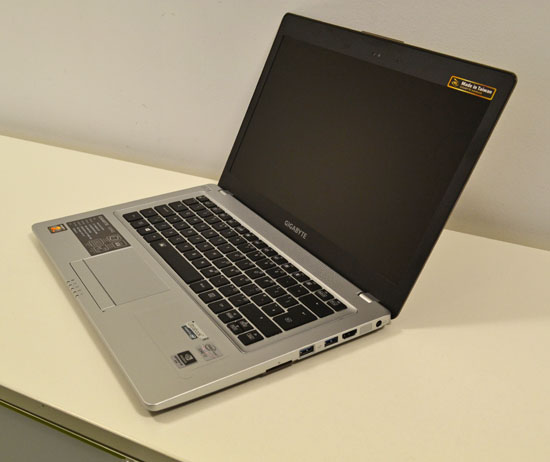 Otherwise solid aesthetics are spoiled by large, thick bezel surrounding the screen. It's not overly noticeable with the screen off, but switch it on and the contrast between the lighter colours and dark-grey plastic bezel is immediately obvious. And it's the rather plain surround that stops the U2442 looking smart from tip to toe.