Introduction
Corsair's enjoyed a run of new products in recent years, and now that its chassis, keyboards and speaker systems have laid a solid foundation, it's ready to make the jump to cable-free gaming peripherals with the introduction of the Vengeance 2000 wireless gaming headset.
Wireless is a word that tends not to sit too well with gaming enthusiasts - it's often seen as a convenience that sacrifices quality and performance - but Corsair's adamant that this is "the wireless headset for gamers who care about audio."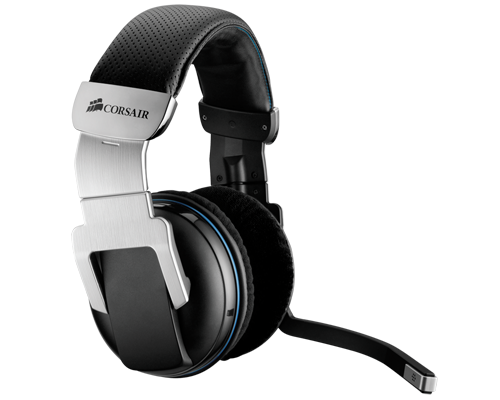 And you do truly need to care about audio, as the £115 price tag makes the Vengeance 2000 an expensive proposition and one that's only suited to PC gamers. Though the headset is wireless, it communicates to a Windows PC via a bundled USB dongle, which means you won't be able to use this headset with your Hi-Fi equipment or even a games console. It's a strictly-PC affair, so is it worth the outlay?
Design
The Vengeance 2000 is designed primarily for long stints of Battlefield or those mammoth sessions of Warcraft, so comfort is paramount. To that end, Corsair's made use of microfiber-covered memory foam earpads and a padded headband. The headband is easily adjusted to 10 size levels, the earpads rotate in both directions to create a snug fit, and the headset is very comfortable in use.
There are no wires to contend with - so you can jump up in celebration of each headshot without taking your PC with you - and the headset isn't too heavy at 365g. Though, there's probably an obvious explanation for the latter - the Vengeance 2000's brushed aluminium look is for appearance's sake only, as the underlying material on offer here is plastic. Still, the headset looks good and it feels robust throughout, with Corsair paying good attention to the finer details.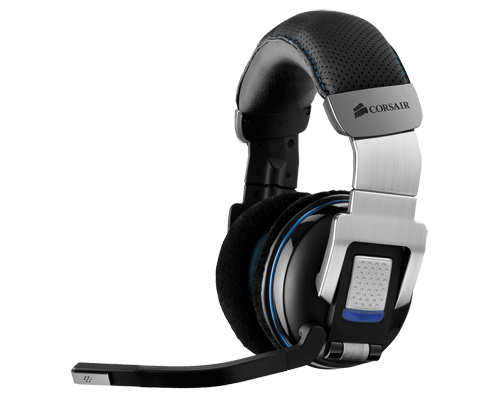 The unidirectional noise-cancelling microphone, for example, moves smoothly into position, and though the microphone can't be detached completely, it will mute itself automatically when rotated to an upward position. On the same left side, the headset also sports a large power button, a status LED (it'll blink blue every four seconds to indicate that power is on and a wireless connection has been established), and a metal volume wheel that feels fluent and intuitive.
Going Wireless
The Vengeance 2000 feels particularly satisfying in use and that's for the most part thanks to the use of 2.4GHz wireless technology that allows users to roam free (at a range of up to 40 feet) for up to 10 hours on a single charge.
Corsair's implementation is slick, with a simple-looking USB receiver and a bundled 5ft extension cable that allows the receiver to be positioned for greater range and easier access.
The entire system is plug-and-play, so Windows recognises the headset when the receiver is plugged in, and the headset is pre-paired making the out-the-box setup process practically non-existent. Corsair also adopts adaptive channel-hopping technology - ensuring that the headset actively monitors the airwaves to seek out an unused wireless band - but concedes that channel collision is still possible in rare scenarios. In our time with the headset, we didn't notice any interruptions to the audio and the wireless range remained decent - we were comfortably able to walk around in adjacent rooms listening to music from the source, but the signal did drop out when we moved to another floor.
The ability to roam is a real boon - you can make trips to the fridge and continue chatting on Teamspeak - but there is a disadvantage to wireless peripherals; they need recharging. Corsair's done what it can to maximise the time between charges by including a lithium-ion battery that's good for up to 10 hours, but it is an inconvenience, particularly when you hear the low-battery tone during an intense firefight.
Fortunately, the headset can be charged during use by plugging in the bundled 5ft USB cable, but you'll need to be sat fairly close to an available USB port in order to charge-while-you-play, and you can expect to wait around four hours until the battery is replenished. To provide an at-a-glance indication of wireless longevity, the headset's USB charging port is handily surrounded by an LED that illuminates red, amber and green to indicate low-battery, charging and charge complete.
Here's the important bit; save for the inconvenience of having to recharge from time to time, we didn't experience any wireless disadvantages. There were no signs of lag, no interruptions, and - provided we kept within a reasonable range - no dropouts of signal, either.