An extra box of tricks
Inside the box , there's the headset itself and a bevy of supporting cables/accessories - including microphone, cable adapter (9-pin analogue plug > 3 x 3.5 mm), power adapter, X-Tatic Sound Control Unit, USB microphone cable for PS3 and PC, microphone connection cable for Xbox 360 (2.5 mm jack > 2.5 mm jack), optical connection cable (S/PDIF) and a manual.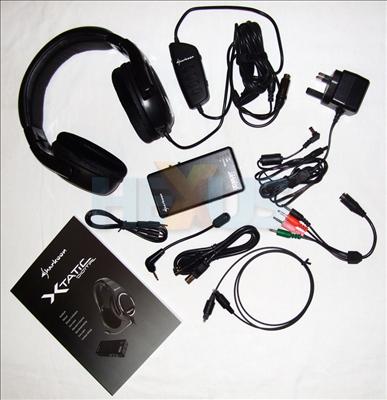 There's a reason for the array of connectivity options - Sharkoon lists out-the-box support for a multitude of platforms, including the Xbox 360, Xbox, PlayStation 3, PlayStation 2 and PC. Unless you're Nintendo-inclined, there's a good chance the X-Tatic Digital v3 has you covered.
Faciliating support for all the aforementioned platforms is this, Sharkoon's bundled Dolby Digital decoder, dubbed the Sound Countrol Unit (SCU):
The SCU supports Dolby Digital 2.0, Dolby Digital 5.1 and Dolby Pro Logic and measures 15mm x 122mm x 56mm, making it a reasonably-sized unit that's likely to sit out of view once you're up and running.
Priced at nearly £60 on its own, it helps explain the high total cost of the entire package. It's at the centre of the X-Tatic Digital experience, and it provides a choice of analogue or optical audio connections, resulting in support for both PCs and consoles. What's interesting is that the SCU allows two X-Tatic Digital v3 headsets to be connected - useful if you're into local multiplayer and you're willing to shell out an extra £60 for a second headset.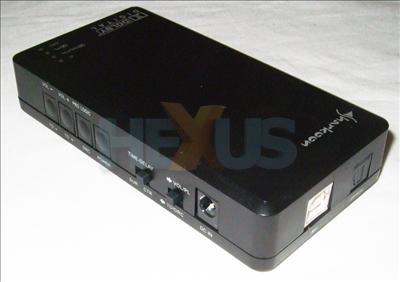 A USB port is present for microphone support on the PlayStation 3, and there's a few added extras worth noting, too. The SCU allows users to configure a time delay between the centre and surround speakers. The idea is to provide a spatial effect, unfortunately, we found it tricky to configure and awkward-sounding when in use. It's easily disabled, though.
What we did appreciate is built-in support for Dynamic Range Control (DRC). Balancing the difference between quiet and loud in a 5.1 Dolby Digital signal, DRC can help accentuate finer details such as quiet footsteps and proves to be useful in online gaming.