Slooooooow down and re-re-re-rewind time
Much like the Sands of Time trilogy, you still have the ability to slow down and re-re-re-rewind time which is a godsend with the somewhat finicky control system. However, you would of thought the ability to turn back time without the need for a flux capacitor would be damn right awesome but no, much like the flimsy control system, the ability to turn back time has a few niggles too. The rewind ability only goes back so far and there are a lot of areas that have overly deep gaping pits of doom. So, you fall and rewind but nooo... it doesn't go back as far as getting you up to the ledge you just plunged from - so you fall over and over and over, so incredibly annoying! That's about the same time my DS stylus left the building via my bedroom window (note to self, must find stylus).

Aside from the hugely flawed game-play, there isn't a whole lot of good to say about the graphics either. All of the characters appear to have been taken from an out of date Japanese RPG title, complete with jagged edges and indistinguishable features. The scene designs and artwork do lend somewhat to the Persian theme but there isn't a whole deal of variety between each level.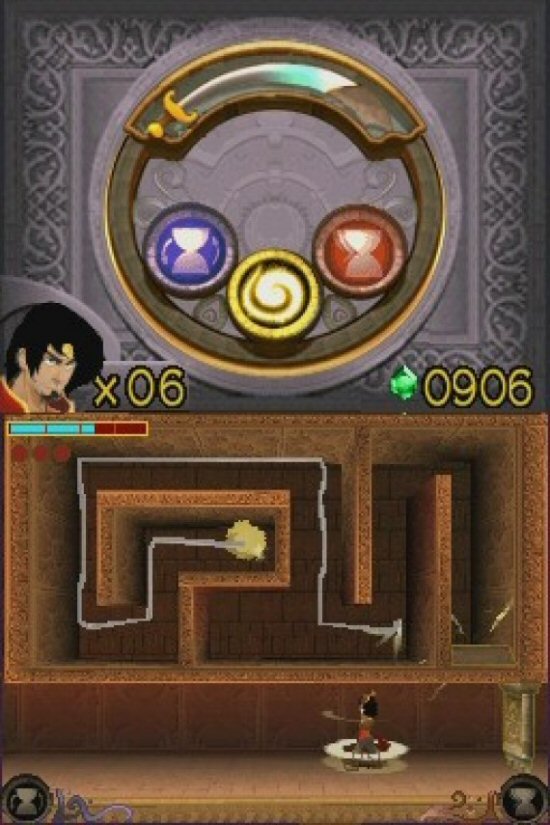 Prince of Persia: The Forgotten Sands for Nintendo DS is a very short, basic and bland title with absolutely no replay value at all. The stylus orientated control scheme makes this title less enjoyable and more mind numbingly painful, somewhat akin to self-inflicted dentistry with a battery powered Dremel.

Mr. Persia Prince man, just leave the stylus alone!