The "sleeker, slimmer, sharper" Xbox One S started to become available to purchase yesterday but unusually, Microsoft appears to be underselling this tweaked Xbox One console. Back when it was launched at E3 in mid-June, Microsoft didn't give any indication that the Xbox One S would pack a faster GPU but in early hands-on analysis it is seen to have a GPU clocked at 914MHz, up from 853MHz in the older console model.

To recap, back at launch and in the official website blurb, Microsoft describes the Xbox One S as offering:
A 40 per cent smaller console size,
With built-in power supply,
That is capable of High Dynamic Range (HDR) visuals,
And hardware upscaling for 4K screens and 4K streaming capability,
It also became available with greater storage, with up to 2TB built-in.
There are no claims made about it offering faster, smoother gameplay. However, as Eurogamer and Digital Foundry have found in early tests the new Xbox One S console does indeed offer a faster clocked GPU and associated faster, smoother framerates in some but not all games tested. It also noted that Microsoft had previously gone as far as denying there would be any impact on games. "They will be identical," said a spokesman back in June, insisting the SoC update would bring "literally no impact".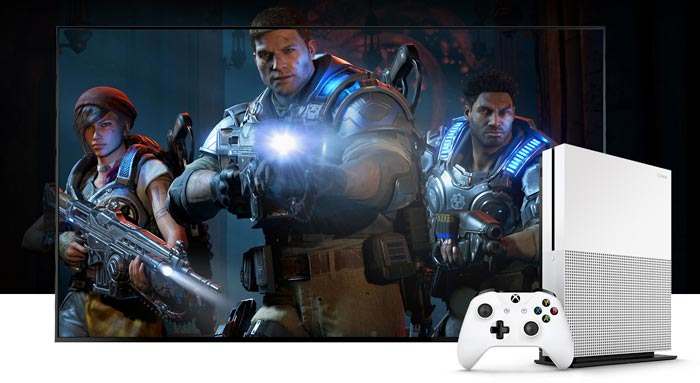 Both old and new console are powered by a 1.75GHz AMD Jaguar eight-core CPU, with a GPU packing 12CUs. The new TSMC 16nm FinFET SoC's seven per cent faster GPU results in both an improved maximum compute performance, and in greater ESRAM bandwidth. It helps framerate unlocked and GPU limited games the most and can smooth out framerate locked games by reducing/eliminating framrate drops. Some perfromance uplift /enhancement was also observed in Xbox 360 compatibility game play.
You can watch the video above for further analysis of the Xbox One S changes
and its impact across a range of popular games.
Xbox One S official unboxing video.