Microsoft has just released an Xbox Live app for the world's most popular smartphone operating system; Android. For Apple iOS users, a platform for which the app was already available, an update to the existing Xbox Live app containing several new features has been also released. The Xbox Live app uses a Metro-like panel interface design.
Android
Users of Android smartphones can head over to the Google Play store for the Xbox Live app download. The Android app lets Xbox fans do the following;
Track and compare your achievements with your LIVE friends
Change up your 3D avatar
Message your Xbox LIVE friends
Edit your LIVE Profile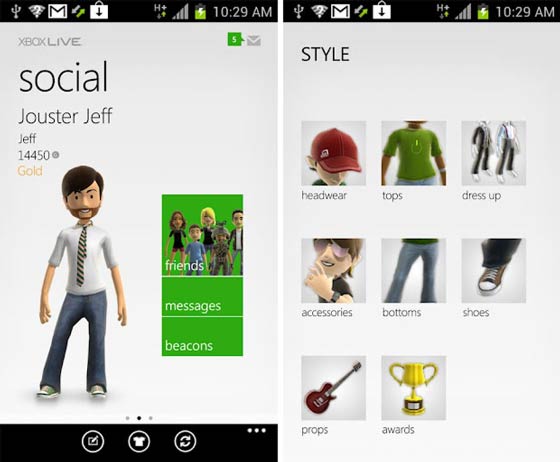 Xbox Live app on Android
The Android device requirements are that you need Android version 2.2+ and your screen resolution is "WGVA or higher", however I think they mean WVGA 800x480 (or higher), which is the regular Windows Phone Mango screen resolution. That rules out quite a lot of older and cheaper Android smartphones.
Apple iOS
The Xbox live app sounds like it's quite a bit more mature and slick on Apple's iOS, a platform for which it's been available for about six months. The iOS Xbox Live app version 1.5 has the following improved features;
Remote control your Xbox with the iPhone
Retina display support
Recent console activity quick jump list
A discover section for content on the Xbox Live Marketplace
Windows Phone
The Windows Phone Xbox Companion app was last updated in late February. The app hasn't been updated on Windows Phone Marketplace today but perhaps the developers are saving their efforts for SmartGlass which is "in essence version 2.0 of the Xbox Companion app." You can see an early SmartGlass demonstration here on YouTube. Eventually SmartGlass will be released on all major mobile platforms.