Live Arcade


Xbox Live Arcade contines to grow with new additions Crystal Quest and Mutant Storm Reloaded. The lve arcade is a great place to pick up some decent cheap titles without a trip to the shop!

Crystal Quest and Mutant Storm Reloaded are now available on Xbox 360 live arcade. Head for the Xbox live marketplace, click on downloads and the option appears to purchase these titles.

Miles Visman of Pompom Software said , "Never before has a small development company like ours had the opportunity to make a launch title for such a major hardware release. Live Arcade has proved to be the perfect vehicle for a title as intense as Mutant Storm Reloaded and Xbox 360 at launch offers us an audience of the console gaming elite who will now have a chance to play our games for the first time."

Crystal Quest was a classic arcade title in the 80's and has been revamped for the Xbox 360. The game includes a retro mode. The original game was a fast moving, addictive, arcade action game with unique stylus game play. Use your stylus to pilot your sphere against wave after wave of increasingly difficult attacks. Collect all the crystals while avoiding mines, bullets, bombs, and enemies. Be prepared to dive into the gateway to escape to the next wave, only to be faced by a new onslaught. Annoyers, Worriers, Dumples, Pests, Huskets, Banes, Menaces and the dreaded Zarklephaser await you! Whatever you do, don't shoot the Shrapwarden! Mutant Storm is a test of shooting skills. Take on beasties across 3D psychedlic environments. It's a carnival of frantic fun!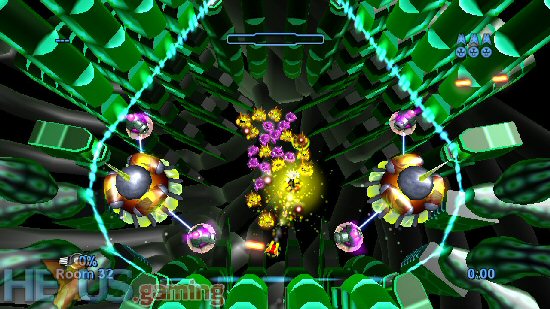 Mutant Storm



Ross Erickson, Xbox Live Arcade Games Portfolio Manager for Microsoft,

" We're thrilled to have both PomPom and Stainless Games onboard for Xbox Live Arcade on Xbox 360. Mutant Storm Reloaded is an incredible game with fantastic Xbox 360-class visuals but combined with simple pick-up-and-play game mechanics. It hearkens back to the classic arcade model of gaming, but with a next-gen gloss of production and graphics. Crystal Quest will be immediately recognizable to anybody who's played the classic that began on the Mac and it has that same addictive quality that the original had. But now, you get the best of both worlds – old school classic, proven gameplay with next generation Xbox 360-quality graphics in high-definition. "

More and more developers are jumping on board to recreate these classic titles and Xbox live arcade is having a huge impact on gamers!