To coincide with the start of the preorder campaign for Max Payne 3, Rockstar Games has announced the special edition, which contains a host of exclusive goodies to get fans excited about the return of the New York City detective.

The special edition is currently available to preorder in the US only, but we have it on good authority that the same collector's set will be available in the UK shortly.

Costing $100, Max Payner 3 Special Edition for PC, Xbox 360 and PS3 will include: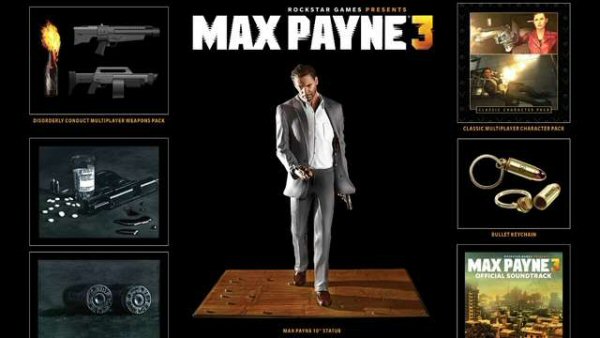 • A copy of Max Payne 3;
• 10" tall Collectible Max Payne Statue created in a collaboration between TriForce and Rockstar Games;
• Series of game-inspired Original Still Life Art Prints that depict some of Max Payne's inner demons and vices;
• Copper and brass-plated iron, bullet-shaped Bullet Keychain featuring a screw-off back; • Classic Multiplayer Character Pack of eight playable multiplayer characters for Max Payne 3 Multiplayer, including fan favorites from the original Max Payne and Max Payne 2 like Max Payne from Max Payne 2, Mona Sax and Vladimir Lem;
• Disorderly Conduct Multiplayer Weapons Pack for Max Payne 3 Multiplayer that includes the Hammerhead Auto Shotgun, G9 Grenade Launcher and Molotov cocktail;
• Max Payne 3 Official Soundtrack featuring the game's instrumental score.

Max Payne 3 is set to launch in March 2012. For more information, visit Max Payne 3.