Right on schedule, Microsoft has introduced support for USB memory devices on its Xbox 360 console.
The added feature, available now via a mandatory system update, allows users to attach a USB-based storage device for easy memory expansion.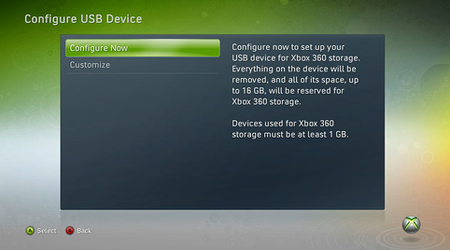 The storage can be used to store gamer profiles, saved games, demos and a variety of content from Xbox Live Marketplace, and will come as a welcome solution to users who have struggled to justify the costs associated with Microsoft's proprietary Xbox 360 hard drives.
Both USB hard drives and USB Flash drives are supported via the update - but Microsoft encourages users to make use of the latter, adding that Flash-based media is "going to give you a much better experience".
Sounds like a mighty useful feature, and though it is, there are a few provisos to be aware of. At present, a single USB-attached drive is limited to a maximum capacity of 16GB. Though, it is possible to attach two drives to create a total storage capacity of 32GB.
What's useful is that Microsoft has also revamped the memory management area of the Xbox 360 dashboard, making it easier for users to choose which content is stored on each specific drive.
In order to take advantage of the new feature, get the Xbox Live update and then head to System Settings, Memory, USB Device and Configure Now. On doing so, the console will check to ensure your drive is up to scratch and then format it accordingly. Sound interesting? Give it a go and remember to share your experiences in the HEXUS.community forums.