Microsoft has confirmed that its 250GB hard drive for the Xbox 360 games console is now available as a standalone accessory.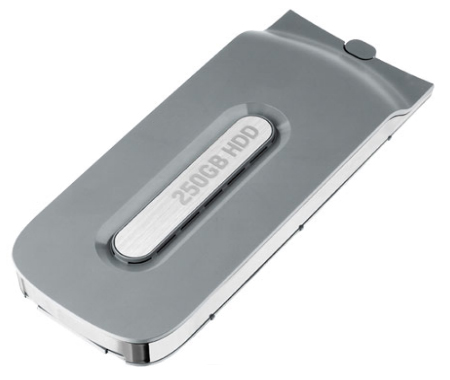 The proprietary drive, pictured above, was originally available as part of exclusive Xbox 360 Elite bundles.
That exclusivity began to fade in February, when Microsoft made the 250GB unit available as a standalone accessory to Japanese consumers.
As expected, the company has now made the drive available to US consumers at a cost of $129.99, and will bring the accessory to the UK market next month priced at £79.99 £64.99 £79.99.
Microsoft's price point makes this the Xbox 360's best value storage solution to date, offering just over 3GB of capacity per pound spent. The console's storage solutions have a history of being notoriously expensive, but the latest addition is starting to edge closer to a standard 2.5in external drive in terms of cost.
Readers on the lookout for a bargain should keep an eye out for Microsoft's existing 120GB drive, which is expected to be phased out and offered at a reduced price "while supplies last".
Ready to make the jump to 250GB? UK retailer Amazon.co.uk has the drive available to pre-order, with availability penned for April 16th.
[Update] Microsoft Xbox community manager Graeme Boyd has confirmed that the drive's UK RRP is actually £64.99, significantly lower than the £79.99 pre-order price listed by certain retailers.
[Update 2] Seems Microsoft can't make up its mind. Community manager Graeme Boyd has now retracted his previous statement, adding that he "got the UK pricing for the 250GB hard drive wrong". Turns out it will be priced at £79.99, and not the £64.99 you were hoping for.