If you're wondering what is exactly Jasper is, and what it has to do with the Xbox 360, we'd suggest referring to our prior in-depth analysis.
For those in the know, you'll be aware that the search for a Jasper Xbox 360 console has been underway for many months. Jasper, successor to Falcon, brings with it the promise of a GPU shrink down to 65nm, and hope of a cooler, quieter console that isn't susceptible to the infamous RROD.
Up until now, that search has proven fruitless. Today, we've got our first real glimpse of Jasper consoles in the wild. Over at the Xbox Scene forums, two community members have posted images of new Xbox 360 consoles that come bundled with revised 150W power supplies. That's 25W less than the power supply bundled with Falcon consoles, and almost certain proof that these are indeed the first two Jasper units to be identified.
In fear of voiding their warranty, neither user is willing to crack open their consoles in order to provide a look at the 65nm GPU we presume is sitting inside. Nevertheless, the images provide manufacturing dates that suggest any console produced after October 23rd 2008 will contain the less power-hungry innards. The console pictured carries a lot number of 0843X, from manufacturing team FDOU.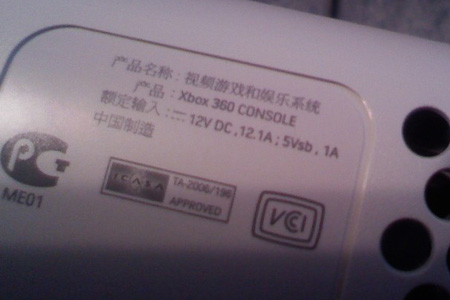 If you're on the lookout for a Jasper console, look for the all-important manufacturing date. If that isn't enough, ask a retailer to open the box so you can check for the 150W power supply before you make your purchase. All we need now is someone to pry open a box so we can all take a peek inside and see what else has changed.
With my own Xbox 360 currently heading to Microsoft's German repair centre, I'm pinning my hopes on a Jasper replacement.