At E3 last week, Microsoft announced that its 20GiB Xbox 360 Premium would fall in price to help clear out stock and make way for the forthcoming 60GiB model in August. Unfortunately for the watching world, that announcement applied only to the US market.
Over in the UK, however, some of the big-name retailers such as Play.com and Amazon.co.uk have taken matters into their own hands. Play.com has slashed the price of its 20GiB Xbox 360 Premium console by £30, making it available for a very tidy sum of £169.99. Similarly, Amazon.co.uk has cut its price by £20.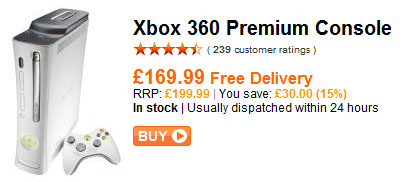 Microsoft denies any involvement, and we're assuming these retailers are cutting prices to help clear stock in anticipation of the arrival of the new Xbox 360 Premium. But, if 60GiBs of storage isn't all that important to you, these newly-lowered prices could be the opportune moment to bag yourself a console.
Official product pages: Play.com and Amazon.co.uk