SEGA of America, Inc. today announced two new characters for Super Monkey Ball Banana Blitz developed by SEGA Studios for the Nintendo Wii console. AiAi, MeeMee, GonGon, and Baby will be joined by new characters YanYan; a young, vivacious female monkey and Doctor; an older monkey with a past steeped in mystery due to his acute case of amnesia. The addition of YanYan and Doctor also marks another first for the Super Monkey Ball franchise, differing skill-set levels for each character. Each character will have strengths and weaknesses in categories such as acceleration, speed, and jumping ability. Even the size of the monkey ball and its weight will play a role in a character's performance in the game.

"The Super Monkey Ball franchise has enjoyed great success and has built a loyal fan base amongst casual and hardcore gamers alike," said Scott A. Steinberg, Vice President of Marketing, SEGA of America, Inc. "The addition of two new characters and the advent of different skill-sets for all the characters has expanded the gameplay of the franchise for its debut on the Wii."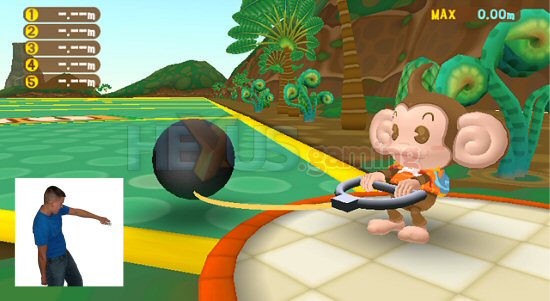 Click for larger image



For the first time AiAi and his friends will have the ability to jump when players flick the Nintendo Wii remote in an upward motion. The ability to jump has given game designers another dimension in which to expand the Super Monkey Ball gameplay experience and allows gamers a whole new way to interact with the franchise; this time in true three-dimensional fashion.

Super Monkey Ball Banana Blitz will also feature 50 new Party Games, which have been creatively designed to take advantage of the Wii remote in a multitude of ways. Gamers will find themselves competing in games such as "Ring Toss", fighting aliens in space with "Alien Attack", or even smacking pesky moles in a game of "Whack-a-Mole." Super Monkey Ball Banana Blitz's large library of Party Games is sure to inspire friendly competition anytime.