In Europe, we may have only just got our hands on the PS3's motion-sensing DualShock 3, but multiple sources believe that Sony aren't about to rest on their laurels, but will be announcing a new remote motion-sensing controller, similar to the Wii-mote, at E3 later this month.

Electric Pig has unearthed what it believes is the first picture of the new controller, which was apparently spotted on a manufacturer's website, who refer to it as ""PS3 2.4 GHz Wireless Handgun". As you can see it is docked in a gun accessory.

With rumours that the new controller was focus-tested earlier on this year, it makes perfect sense that Sony will reveal the controller during its keynote speech next week.

If not, then Microsoft may just beat them to it. The Xbox 360 manufacturer is also rumoured to be prepping a motion-sensing controller. A leaked list of features for the Xbox 360 dashboard update, which is expected soon, states the addition of "Calibration options for motion sensor devices".

Nintendo's Wii-mote is great, but we can't wait to see what developers can really do with remote motion-sensing peripherals on the HD-capable Xbox 360 and PS3. Good times.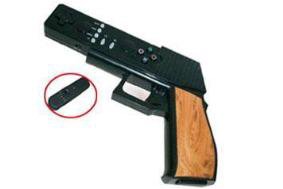 Source :: Electric Pig