Only a couple of weeks after Nintendo launched its Classic Mini NES with 30-built-in games, Sega has followed up to launch an official Mega Drive Classic Game Console with 80-built-in games. The Sega console is now up for pre-order with availability scheduled for October, priced at £50. According to a report on TheNextWeb, there will also be a handheld Sega Mega Drive system launched at the same time and the same price.
Sega Mega Drive Classic game console
As you can see from the pictures this console is very much in the same vein as the Nintendo release from a couple of weeks back. It is a mini console with a decent collection of embedded games to provide almost instant retro-gaming gratification. However the new Sega console has some important plusses and minuses.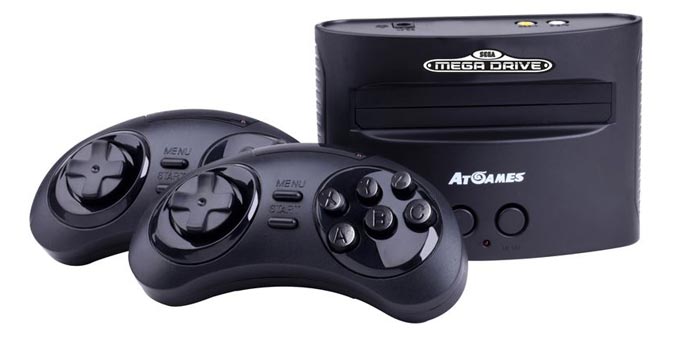 On a positive note; the console has many more games available than the Nintendo rival, it is based on a 16-bit console – a generation ahead of the NES, there's a pair of wireless controllers included, Sonic and Mortal Kombat series games are all available, and its compatible with standard original Sega Megadrive cartridges that you might have in your attic.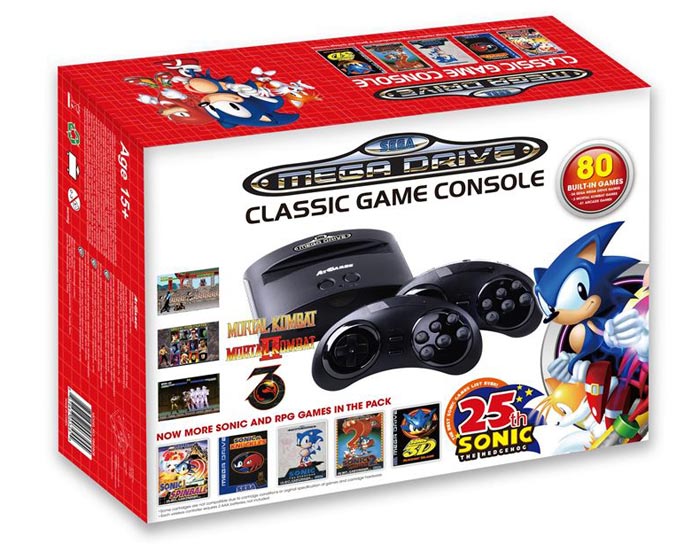 Negative points include; it uses component AV cables to connect to your TV, and the product quality reputation of Chinese manufacturer At Games isn't so good, says TNW. However I note from the product description that the console "is not an emulator" so should provide original style gameplay.
Sega Mega Drive Portable system
This handheld features a 3.2-inch diagonal screen and also includes 80-built-in games (same list as with the above console). As you might already suspect – you cannot slot original cartridges into this device – however you can load up additional game ROMs (.BIN and .SMD files) on an SD card.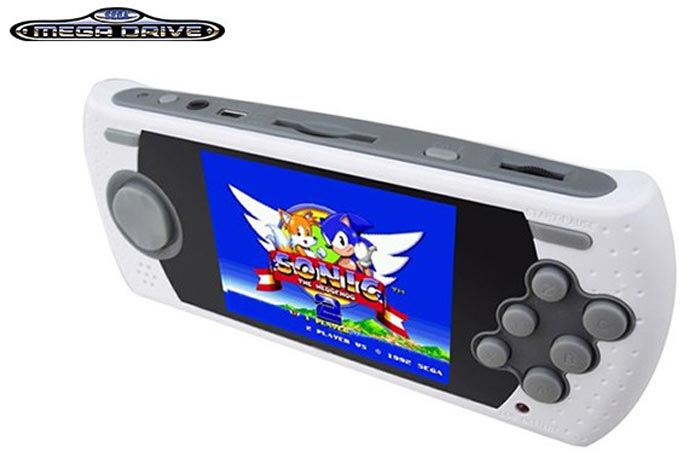 Enhancing its portability this handheld contains a built-in rechargeable battery (recharge via USB) to provide "hours of fun without ever having to buy expensive batteries". The device looks slim and compact whilst offering the full complement of Mega Drive control pad buttons on its front.
Games list for both consoles
Alex Kidd in the Enchanted Castle

Alien Storm

Altered Beast

Arrow Flash

Bonanza Bros.

Chakan: The Forever Man

Columns

Columns III

ComixZone

Crack Down

DecapAttack

Dr. Robotnik'sMean Bean Machine

ESWAT: City Under Siege

Eternal Champions

Fatal Labyrinth

Flicky

Gain Ground

Golden Axe

Golden Axe II

Golden Axe III

Jewel Master

Kid Chameleon

Phantasy Star 2

Phantasy Star 3

Ristar

Shadow Dancer: The Secret of Shinobi

Shinobi III: Return of the Ninja Master

Sonic & Knuckles

Sonic Spinball

Sonic the Hedgehog

Sonic the Hedgehog II

Sonic 3D Blast

Sword of Varmilion

The Ooze

Vectorman

VectormanII

Mortal KombatI

Mortal KombatII

Mortal KombatIII

Yawning Triceratops

Adventure in the Park

Cross the road

Jack's Pea

Jewel Magic

Curling 2010

Plumbing Contest

Wall-Breaking

Bubble Master

Break a Fireline

Mahjong Solitaire

Warehouse Keeper

Chess

Memory

Snake

Air Hockey

Spider

Naval Power

Mr. Balls

Cannon

Fight or Lose

Bottle Taps Race

Bomber

Checker

Hexagonos

Whack-A-Wolf

Mirror Mirror

Panic Lift

Black Sheep

Flash Memory

Brain Switch

Mega Brain Switch

Hidden Agenda

Dominant Amber

Hide and Seek

Jura Formula

Lost World Sudoku

Meatloaf Rotation

Mya Master Mind

Skeleton Scale

T-Rex Memory Match