Corsair branches out, again
Corsair has today announced its arrival in the world of PC input devices by unveiling a range of Vengeance-branded keyboards and mice.
It is the latest in a long line of new product introductions for an American manufacturer who, while best known for its memory products and power supplies, has in recent years rapidly expanded its produce range to include a variety of high-performance products such as solid-state drives, computer chassis, CPU coolers and speakers.
Each new product range has been met with reasonable success, and the company's track record suggests that its next deviation - gaming peripherals - will continue to please a faithful audience of overclockers, enthusiasts and gamers.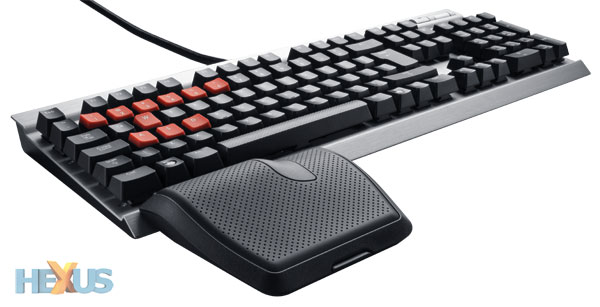 Targeting both the RTS and FPS crowds, Corsair's peripherals will initially be available in four flavours; the Vengeance K60 and Vengeance K90 keyboards, and the Vengeance M60 and Vengeance M90 mice.
The K60 keyboard, pictured above, is designed specifically for use in first-person-shooters and touts the "predictable linear response and light touch of Cherry MX Red mechanical key switches", along with the ability to handle 20 simultaneous keystrokes (often referred to as rollover).
The use of a solid aluminium chassis gives the keyboard an industrial look, and Corsair's quite clearly favoured function over form. In addition to being 100 per cent anti-ghosting, the K60 provides a rapid 1ms reporting rate, a contoured left-wrist rest that doubles as a storage box, and a set of 10 red contoured and textured keys. Should the red WASD key caps prove to be a touch too dramatic, they can easily be pulled out and replaced by regular black keys that are included in the box.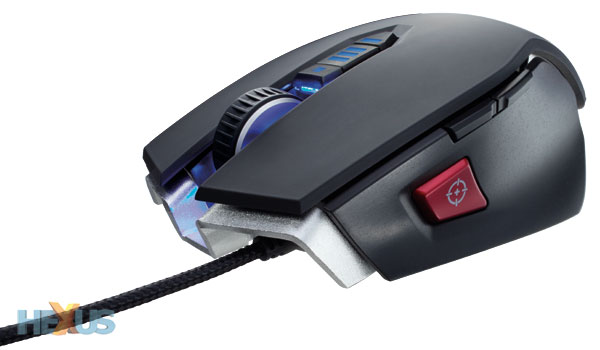 The K60's rodent companion, meanwhile, is dubbed the Vengeance M60 and features an Avago 5700 DPI with on-the-fly resolution switching. That's a feature found on most modern gaming mice, but what makes Corsair's solution a little more interesting is the side-mounted Sniper button. Hold that down and the mouse instantly toggles to a low-DPI mode for accurate aiming - making it easier, in theory, to get those coveted headshots.
The K60 mouse adopts an aluminium body whose weight is adjustable by up to 21g, as well as a high-mass scroll wheel, PTFE glide pads, and programmable lift detection.
Ideal weapons for shoot-em-ups, perhaps, but if real-time-strategy is your genre of choice, there's the Vengeance K90 keyboard and Vengeance M90 mouse.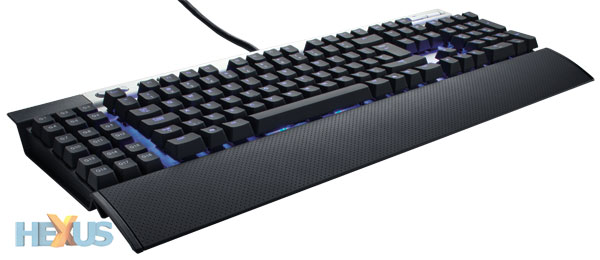 The aluminium-based K90, pictured above, makes use of the same Cherry MX Red key switches and also features complete anti-ghosting, a 1ms response rate and 20-key rollover. But this time around, you get a full-width palm rest, keys individually backlit with a blue LED, and 18 macro keys organised into three user-selectable banks. That'll give you a total of 54 unique macros, and each one can be programmed as you game or through Corsair's bundled software utility.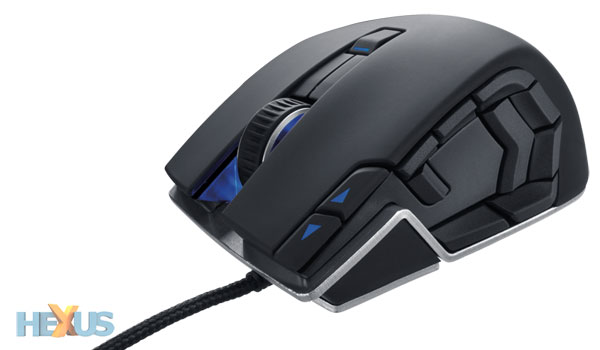 If the keyboard's 54 macros just won't do, then you may want to consider the companion M90 mouse. Armed with 15 buttons that Corsair reckons are "arranged and tuned for intuitive operation without compromising your grip", the M90 offers nine thumb-triggered macro keys, the same Avago 5700 DPI sensor as the K60, on-the-fly resolution adjustment, programmable lift detection, a high-mass scroll wheel, and PTFE glide pads.
We've had a brief play, and though we won't be able to provide a definitive opinion until we've had a couple of good gaming sessions, we can say that all four aluminium-framed peripherals feel great to the touch and are comfortable in use. But be warned, these high-end weapons won't come cheap. When the FPS-orientated K60 and M60 arrive in store next month, they'll carry price tags of £89 and £69, respectively, while the RTS-specific K90 and M90 will fetch £109 and £89 apiece.
Not for the faint hearted, but in keeping with Corsair tradition, it seems the company's aiming for the high-end of the market first, and is almost certain to follow up with a selection of mid-range and mainstream alternatives.
Corsair keyboards and mice, folks, what do you think? Feel free to peruse the additional pictures on page two, then share your thoughts in the HEXUS community forums.