Beanbagbazaar has dropped us a line this week to let us know about its new gaming chair, the i-EX gaming chair, which it claims offers "man-sized gaming comfort with mammoth proportions and edgy style."

The i-eX features ergonomic support, with a contoured bucket seat and side panels that it says provides excellent head and neck support. The i-EX also comes in one colour and two trimmings, namely black with lime green or silver piping.

There's no chair vibration or build-in sound system, so the i-eX seems a little expensive (RRP £99) for what you actually get. We've thrown out the challenge to Beanbagbazaar and have said that we're interested in reviewing its latest gaming chair to put it through a rigourous stress test. We like to game and we like to game hard.

The slogan for the i-eX reads: "'All game, no pain' does exactly what it says on the tin." Sounds perfect.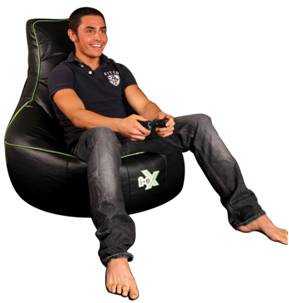 You can check it out on the i-eX gaming website.