The makers of the Ataribox have just released some new images to keep enthusiast interest alight while the wait for the console system launch continues. These new pictures show the standard Ataribox controller from various angles. Ataribox's joystick controller design appears to be a tribute to the original 2600 controller with some modern accoutrements, and hopefully it will deliver a bit more in the way of an ergonomic feel.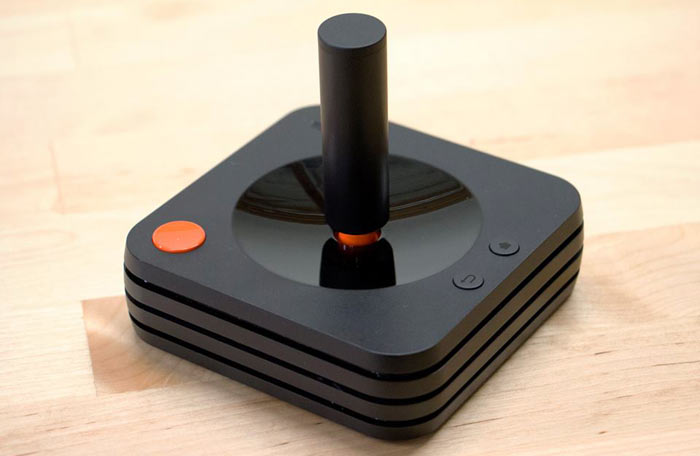 In our last update on the Ataribox saga we saw what were said to be actual photos of one of the new consoles with 'real wood veneer' on the front panel (and a simple black and red version). More importantly we learnt of the console OS and innards; the Ataribox will run Linux with joypad/TV friendly UI, and inside there is a custom AMD processor with Radeon graphics providing modern 'mid-range PC' performance. System pricing will be in the region of $250 to $300 at launch.
Back to today's news about the official Ataribox Joystick - the first thing of note is the sleeker, less chunky design. For me I'd prefer if it dug less into the hand than the original and offered a greater amount of joystick travel. In the photos the corners do appear to be more rounded, and the base less deep so that looks positive.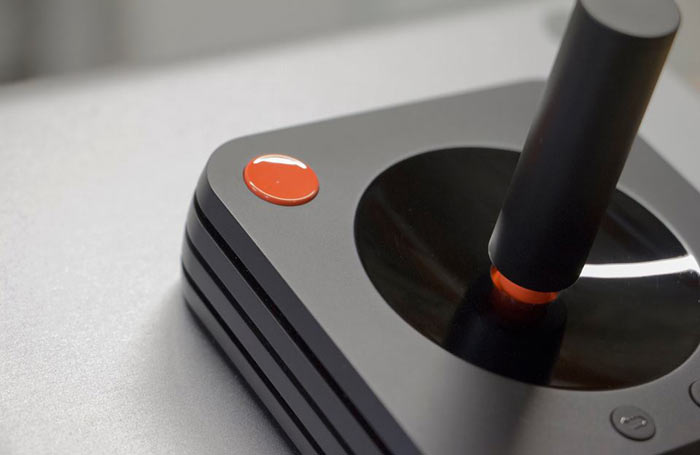 In a couple of the pictures you can see that at the bottom of the joystick bezel area there are home and back buttons. Other than that all that is evident is the red main button. However, on closer inspection, in all the shots it is difficult or impossible to see the top right corner of the top bezel - perhaps there's some additional button there. Additionally the top of the stick looks like it might screw off, possibly for another button.
If you look at my composite picture of the new joystick and the original 2600 joystick/console (below) you will see that the signature orangey notched line around the original joystick might be updated with some kind of LED effect in the new model, it's a little difficult to determine.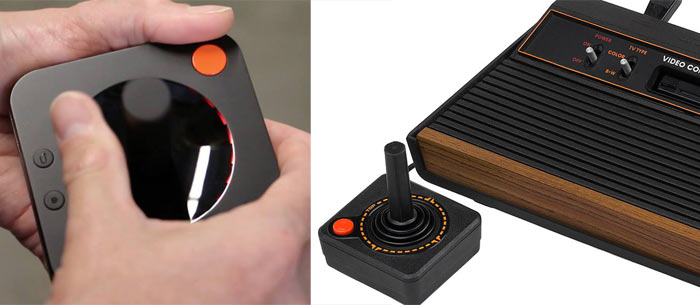 We still have some time to wait for the Ataribox launch. The above new joystick looks like a welcome accessory but for modern games we would like to see another complementary designed controller being supplied, or at least as an option.