Available in dual-channel and quad-channel
GeIL today launched the BD (Black Dragon) EVO ONE, which it claims will 'deliver the perfect blend of performance, high capacity and stability aimed at improving and maximising the gaming experience'.

The modules use eight-layer PCBs and FBGA DDR2 IC chips. They're available in a selection of twelve kits – 2GiB, 4GiB and 8GiB - running at either 800MHz (with timings of 4-4-4-12) or 1066MHz (at 5-5-5-15). All of the Black Dragon Evo One kits come with a lifetime guarantee.

This new memory module is claimed to offer superior cooling, achieved by GeIL's latest EVO ONE heatsink system using high-thermal-conductive materials - aluminum [237 W/(m·K) at 300 K] for the heatsink and copper [401 W/(m·K) at 300 K] for the heatpipe and fins.

We'll have some photos of the new modules very soon, so be sure to check back.

Specifications:

Capacity: 2GiB, 4GiB, 8GiB dual-/quad-channel kit
Speed: 800 and 1066MHz
CAS Latency: 4-4-4-12 and and 5-5-5-15
GeIL certified FBGA 64Mx8 and 128Mx8 DDR2 IC chips
240pin, Non-ECC, Un-buffered DIMM
Eight-layered Custom Black Dragon PCB
Heatspreader: EVO ONE Heat-sink System
Working voltage:
- 800MHz CL5 – 1.8V
-800MHz CL4 – 1.9~2.0V
- 1066MHz CL5 – 2.1~2.3V
Retail package
GeIL lifetime warranty

The BD EVO ONE is available in dual-/quad-channel with maximum capacity of up to 8GiB per kit.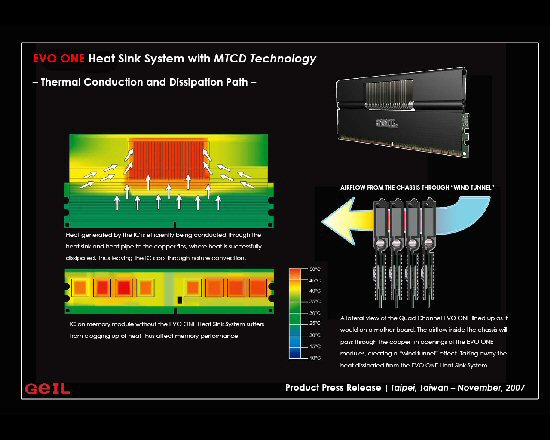 Click for larger image