Discovery Bay Games (DBG), maker of the Duo range of iPad gaming accessories, has raised $15 million from investments in the company by Logitech and Trilogy Equity. DBG originally started out as a multi-player board game company but had the foresight to make the first gaming accessory for the yet to be released iPad in early 2010.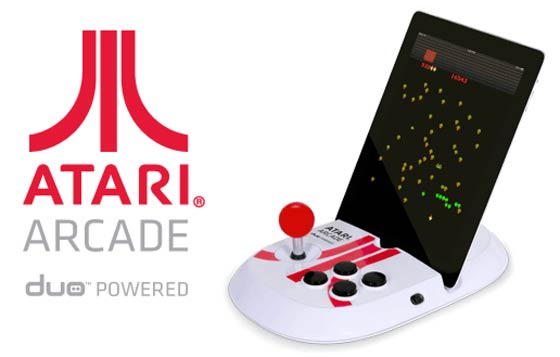 The investors obviously approve of DBG's intended direction. The company's most successful iPad gaming accessory to date is the Duo Powered system which is an iPad stand and arcade game controller. Below is a video of the Atari sponsored version which comes with Atari's Greatest Hits. "Relive the fast-action excitement of all your arcade favourites, like Asteroids, Centipede, and Missile Command. Simply connect your iPad to Atari Arcade, download Atari's Greatest Hits app for Duo, and you're ready to share the fun with family and friends anywhere! With its joystick and buttons, Atari Arcade - Duo Powered is exactly the way arcade games were meant to be played!" says the product blurb.
Other iPad gaming hardware accessories in the DBG stable include Duo Pop which looks like a collection of simple buzzer controllers similar to the PlayStation Buzz quiz game controllers. Duo Plink looks even less fun as some kind of high tech colour dice substitute…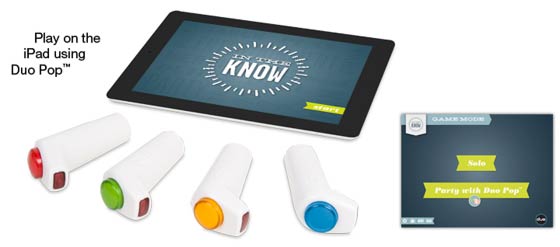 Talking to VentureBeat DBG chief executive officer, Michael Sievert, said "Gameplay in iOS can be made better with physical devices. iOS is the fastest growing game platform we've ever seen, and we're taking advantage of that trend." On his company's investment in DBG, Logitech CEO Guerrino De Luca said "As a global leader in PC gaming, we understand the magnitude of the opportunity in gaming devices for tablets and mobile phones."
DBG intend to use the money to develop and bring to market new "appcessories" for the iPhone and iPad and build upon the success so far. A further goal is to get more widespread distribution and availability of the new gaming "appcessories". DBG is also working in partnership with Gameloft to create some "true console-quality gaming experiences on mobile." That is iOS only at this time. The mobile accessory market is expected to hit $38 billion a year in revenue by 2017 so this is an attractive growing industry to be invested in, if you can back a frontrunner.