The OUYA Android console has started shipping to Kickstarter project backers today. We can expect quite a lot of analysis of the console and a community of users to build up on the web shortly. The general availability of the OUYA has been flagged for June, which isn't so long off but probably enough time to gauge the early adopter enthusiasm and potential of the new console before deciding to buy one from a store.
Play the GAME
If you live in the UK and want to pre-order an OUYA, from today you have a buying choice other than going direct. You can now pre-order the OUYA from GAME for "Only £99.99" with free UK delivery, release date "TBD". Extra controllers are also on pre-order at GAME for £39.99 (Amazingly not at the numerical dollar parity of 49.99). In the US people will be able to visit bricks and mortar stores like GameStop, Target and Best Buy or get an OUYA from Amazon for $99.99.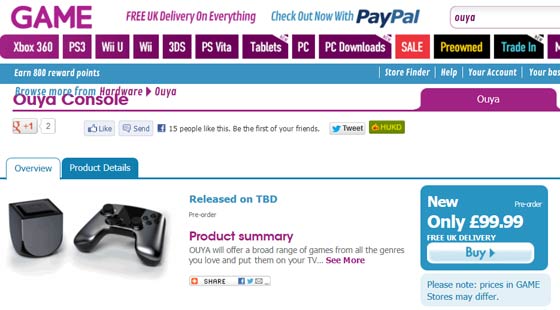 Comparing prices, the OUYA Console direct from the company can currently be pre-ordered for $99.99 plus shipping to the UK for $25, totalling $124.99. That's currently around £82.50. If you get your import stopped for tax/duty then you will easily end up paying around £100 or more with an admin charge, so GAME may indeed be the best option, for now.
Other OUYA news
Today the BBC published a story featuring the OUYA console. The report called the OUYA disruptive technology which could upset the console gaming market. However it was pointed out that others may soon upset OUYA's plans for success. Similar projects from the likes of GameStick, the Project Shield from Nvidia and even Valve's SteamBox were cited as potential OUYA party poopers. Nintendo, Sony and Microsoft might also have plans to do something to avoid being disrupted but there is no such evidence as yet.
Yesterday TechCrunch revealed that the OUYA may well be successful on the back of its good support for emulators. The report says that there are many emulators on the Android platform that will work very nicely on an OUYA with a big screen and dedicated games controller. With all your classic games on tap via emulation the "OUYA is set to become a nostalgia machine for gamers who grew up in the 80s and 90s" according to TechCrunch.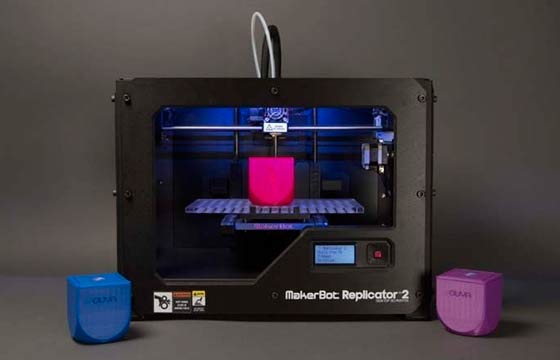 Finally for all you case customisation crazy readers there's an interesting bit of news regarding cooperation between OUYA and Makerbot. There is now a MakerBot Replicator 2 optimised template available for printing your own custom OUYA case. However the original cases look better than the MakerBot efforts to me.